October 19, 2009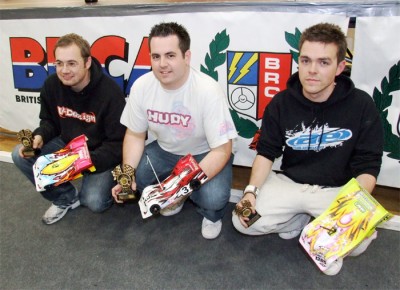 Last weekend saw round one of this winter's BRCA 1/12th scale nationals take place in Crewe. The meeting saw most of the familiar faces in attendance along with the return of one or two names who haven't attended the nationals for a couple of years. The most notable of these was Olly Jefferies, who will be driving an Associated R5.1 in this year's championship. Last years champion Elliott Harper and former European Champion Andy Moore will also be at the next round, but were absent at this meeting due to International racing commitments.
Saturday is stock day, so all drivers run with 10.5 motors. This season sees the introduction of 1S lipo batteries as an alternative to 4-cell NiMh, although most chose to stick with their tried and tested 4-cell packs at this early stage in the season. Chris Kerswell dominated stock qualifying driving a V-Dezign Carpet Ripper 2.0. At times he was almost a whole lap clear of the chasing pack, but the gap was eventually closed to a handful of seconds by Olly Jefferies who lined up 2nd ahead of Mark Stiles, also driving a V-Dezign.
In the A final, the front runners got away cleanly and the top 3 began to pull a gap to the chasing pack headed by Andy Griffiths. The front three began to spread out slightly until a mistake by Olly allowed Mark to pass him for second place. As the race passed the 5 minute mark Chris's lead began to decrease, and the mounting pressure led to a small mistake which resulted in a grip roll. Mark slipped through into the lead and despite a late charge during the last 90 seconds Chris was unable to regain first place. So Mark Stiles took his maiden BRCA 1/12th scale national victory ahead of Chris Kerswell, with Olly Jefferies cementing his return to 1/12th scale with a solid 3rd place.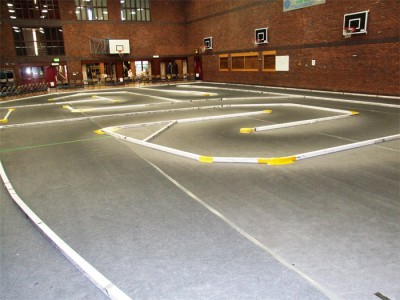 On Sunday the 10.5 motors are swapped for more powerful modified units, with 5.0 and 5.5 turn motors being the norm for most of the front runners. Some drivers choose to stick with their stock motors and race in the sports modified category, and despite this class actually having a larger entry, the open modified category is still seen as the premier class. In qualifying former British Champion Andy Griffiths was back to his best after making changes to his car overnight. Andy took pole for the A final ahead of Olly Jefferies, with his Associated team mate Keith Robertson 3rd.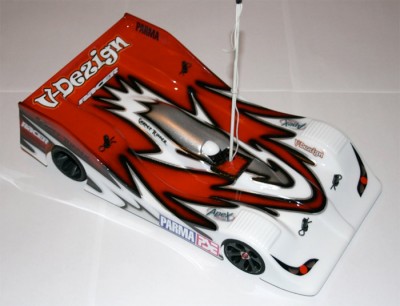 The A final turned out to be one of the most competitive for years, with the top 7 cars remaining on the lead leap for the duration of the race. An early mistake from Andy Griffiths let Olly Jefferies into the lead, and while Andy set about recovering from 8th place Olly started to open up an advantage at the head of the field. Meanwhile Mark Stiles was making steady progress through the field and found himself in 5th place at the half way stage after starting a lowly 9th on the grid. Further mistakes from other drivers promoted Mark to 3rd with 2 minutes remaining, while Andy Griffiths had by this time recovered to 2nd a couple of seconds up the road. Then to everyone's surprise, Olly's car began to slow – a problem later traced to a faulty cell in his battery pack. Andy and Mark smelt a chance of victory and both drivers put the hammer down to close the gap to the leader. Andy caught Olly on the penultimate lap, but his eagerness to get through into the lead resulted in both cars colliding and ending up on their sides. This gifted the lead to Mark Stiles, who drove a controlled final lap to take an astonishing victory from 9th on the grid! Andy recovered to 2nd place, while Chris Kerswell passed a slowing Olly for 3rd on the last lap.
The sports modified class saw an easy TQ and win for Hot Bodies' Mick Farrell ahead of Nigel Hale driving an Associated. Mark Jewitt was 3rd for Xray. Mark has been trying for that elusive first national win for several years, and came away from Crewe with 2 popular victories under his belt! This capped off an outstanding weekend for the V-Dezign team. A 1-2 on Saturday followed by a 1-2-3 and the team prize on Sunday. Mark's V-Dezign Carpet Ripper 2.0 chassis was propelled to victory using Parma Blackhawk tyres and a Parma Zytek body shell.
[youtube]http://www.youtube.com/watch?v=qp3PQw3uJGw[/youtube]
[youtube]http://www.youtube.com/watch?v=tiiCLZgT19A[/youtube]
[youtube]http://www.youtube.com/watch?v=H08uoOwMifs[/youtube]
Thanks to Mark Stiles for the report.
---