December 14, 2009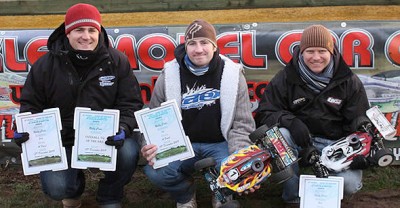 The 3rd round of the CML Winter Series at Frankley Model Car Club was run last weekend and the track started out damp and slippery. In those conditions National Champion Neil Cragg was untouchable, gliding his RC8B around the challenging Frankley track with a deft touch that left the opposition trailing in rounds 1 and 2.
The third and final round of qualifying saw a change in conditions as the track dried out and the traction improved greatly giving the drivers a new problem of grip roll. This was made particularly difficult as the cars had been set up soft to generate traction in the slippery conditions of the morning. Again it was Neil Cragg who made the best of the conditions, albeit by less than a second from Reedy powered Richard Taylor. Associated/Reedy man Craig Drescher was 3 seconds back in 3rd. The overall top 3 after qualifying was Neil Cragg, Richard Taylor and Tony Truman.
The main final once again saw Neil in dominant form. Richard kept him honest for the first 5 minutes before Neil's pace and consistency took him away from the pack. Richard ran fairly untroubled to take a good 2nd with a recovering Craig Drescher in 3rd. Craig had dropped back early after a poor start, but had shown good pace to bring himself close to Richard by the finish. Tony Truman took 4th and John Howells brought the RB powered Hyper 9 UK home in 5th.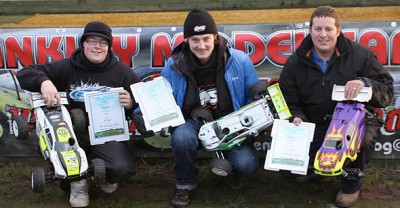 In the Truggy class it was Adrian Deane who won in his first race of the series. He still has a lot of work left to do to catch series leaders Liam Gavlin, who came in 2nd, and Tom Jordan who could only manage 10th place this round.
Source: CML [cmldistribution.co.uk]
---