December 12, 2009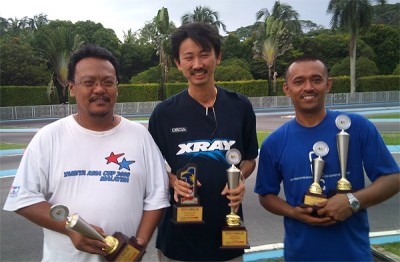 The much anticipated 4th and final round of the Malaysian National Championship took place recently and as it was well into the rainy season the weather was the only concern that all racers had. But it turned out to be a very good day, as the weather was excellent throughout, even becoming too hot at times. The field consisted of 30+ racers that were divided into 4 groups and after qualifying it was Jackie Siow that took the pole position in front of Mizan and Norazam.
As all cars took the grid for leg 1, it would definitely be a good performance by the eventual winner Jackie Siow. As all the cars took off from the grid, the first car went away without any problems leaving the rest of the field fighting for positions. Jackie took the win for leg 1, with Mr Norazam in 2nd and Mr. Azri Amri, MNC's last round winner, taking 3rd looking to be a replay of the last MNC with the three front runners. Leg 2 saw the win again by Jackie Siow, and again 2nd and 3rd was taken by Mr. Norazam and Mr. Azri Amri. Now the battle for 2nd was on as whoever of the two finished ahead in the 3rd leg of the final would take 2nd. Leg 3 again saw Jackie taking the win, although it is more of a show of speed by Jackie than a necessity. Norazam took 2nd and very fast driver from Nilai, Mr. Chong YihYoong took 3rd for leg 3. So the final result is set, with Jackie Siow driving for Xray and ORCA taking 1st and the overall champion for 2009, Norazam driving his Tamiya and for Speed Passion taking 2nd and 2nd in the overall championship for the year 2009. 3rd spot went to Mr. Azri Amri driving his Yokomo and for ORCA.
Final Standings:
1. Jackie Siow
2. Norazam
3. Azri Amri
4. Chong YihYoong
5. Michael Lo
6. Mizan
7. M Shah
8. Zuki
9. Ijan
10.Ritchie Tan
Thanks to Michael Lo for the report.
---