December 15, 2009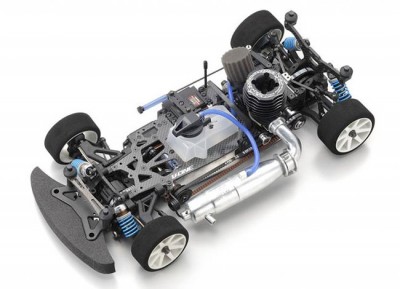 Shown for the first time during the Tokyo hobby Show a few months ago, Kyosho have released full details on the new V-One RRR Shim Edition. This special version features many not yet released option parts and the whole car is finished off in Shimo's signature silver color. Heading the list of upgrades is the new smaller diameter clutch unit as well as the new 'Velvet coated' V-One shocks for smoother shock action as well as other nice touches like the different belt tensioner, ventilated brake disk, new 3mm carbon shock tower and hard coated pillow balls for better durability.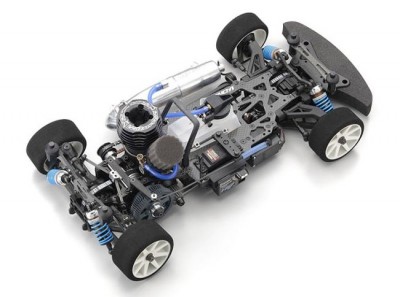 Features
Small Clutch Unit
– Small diameter clutch unit and hard coated pinion gears are combined together to produce a sharp acceleration every time.
Velvet Coated V-One Shocks
– Kyosho is well known for silky smooth shocks and the new V-One shocks included with the new Shimo Edition are no exception. The velvet coated shock bodies feature a threaded spring pre-load collar for quick and easy adjustments.
Shimo Belt Tensioner
– Features Shimo's special high-durability flanged type bearing belt tensioner.
Vented Disk Brake
– Lighter, stronger and high durability are some of the words to describe the new vented disk that is included with the Shimo V-ONE RRR. The new high-durability vented brake disk produces effective braking power over an extended period of time without brake fade.
Multi Offset Clamp
– The Shimo Edition uses multi offset clamp-type aluminum hexed wheel hubs, that give you a choice of 4 different offset settings.
New 3mm Carbon Shock Tower
– A new 3mm rear carbon shock tower has been developed to provide you with greater setting options. The new shock tower provides you with a choice of 9 shock mounting position.
Hard Anodized
– Both 17T and 22T clutch pinions are hard anodized for a longer life and better wear.
Super Light Weight
– Upper plate cut and shaped to remove unnecessary weight. Combines with dynamic main chassis for superior control on high-speed courses.
Universal Swing Shafts
– Universals swing shafts both front and rear are included as standard equipment. This turns the drive train of the V-ONE RRR into a supper efficient machine with no power loss.
Hard Pillow Balls
– Hard pillow balls give you smooth action and longer life compared to standard pillow balls.
Rear Adjustable Stabilizer
– The new rear adjustable stabilizer comes in the Shimo colors (silver).
SP Side Pulley Set
– Another key feature is the SP Pulley Set that the Shimo Edition comes with as standard equipment.
Font Diff Assembly
– 4 bevel gear front diff assembly is used in the V-ONE RRR Shimo Edition because if it's great power handling abilities and multiple adjustments.
Hollow Middle Shaft
– Kyosho has made the V-ONE RRR even better by making the drive-train as efficient as possible by reducing the weight. A new hollow middle shaft has replaced a solid heavy one, this gives you the best driving experience.
Lightweight 1st Gear Housing
– The 1st gear housing has been lighten significantly to give you maximum performance with no compromise.
SP Low Friction Belt
– Special low friction belts are supplied for the front, middle and rear.
Carbon Fiber Front Shock Tower
– Equipped with a carbon fiber front stock tower.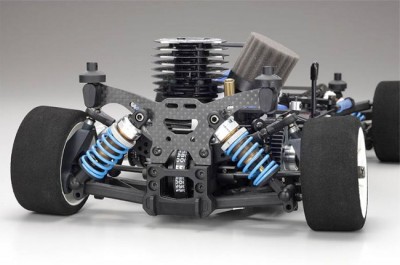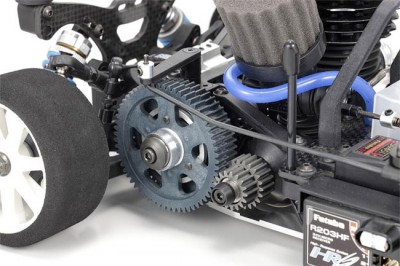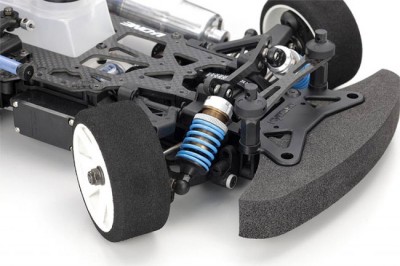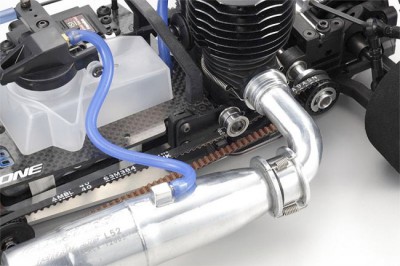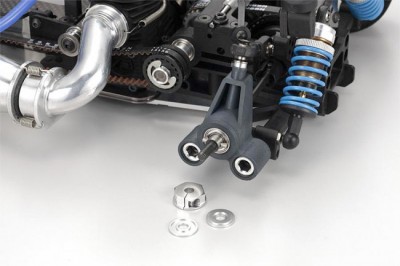 Source: Kyosho [kyoshoamerica.com]
---