January 22, 2010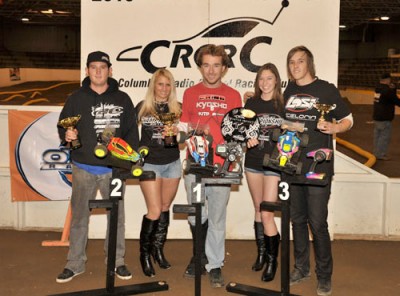 The 2010 CRCRC Winter Mid-West Electric Championships were held last weekend in Columbus, Ohio. This years event had an amazing 440 entries, including some of the Nations best, factory drivers like Jared Tebo, Ryan Cavalieri, Cody King, Dustin Evans, Dakotah Phend, Matt Chambers and Jesse Robbers were all in attendance. Open practice was held on Thursday and Friday, while Saturday would consist of 3 rounds of qualifying. Sunday would run 1 round of qualifying, followed by triple A-Mains. The drivers best 2 of 4 rounds were used to determine the overall qualifying order.
After qualifying was complete, it was Kyosho's Jared Tebo who was TQ in all 3 Modified Classes. In the 2WD Modified Class, Jared took full advantage of his TQ position and went on to win the 1st and 2nd A-Mains to take home his 1st title from the weekend in front of Ryan Cavalieri and Dustin Evans.
2WD Modified Overall
1. Jared Tebo (TQ)
2. Ryan Cavalieri
3. Dustin Evans
4. Steven Hartson
5. Matt Chambers
6. Jesse Robbers
7. JP Richards
8. Dakotah Phend
9. Cody King
10. Johnny Loguidice
In the Modified Truck Class, Jared would have a great battle with AE's Ryan Cavalieri. Tebo held off a hard charging Cavalieri to take home his 2nd title of the weekend once again ahead of Associated driver Ryan Cavalieri and Dakotah Phend.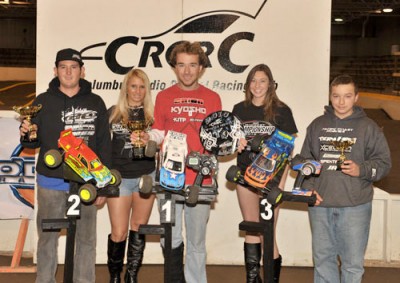 Truck Modified Overall
1. Jared Tebo (TQ)
2. Ryan Cavalieri
3. Dakotah Phend
4. Dustin Evans
5. Cody King
6. Al Horne
7. Matt Chambers
8. Max Flurer
9. Brandon Rohde
10. Josh Stough
In the 4WD Modified Class, Tebo and Cavalieri would go at it once again. In A-Main 1, Cavalieri took home the wind with Tebo in a close second. In A-Main 2 Tebo took the wind and Cavalieri finished 2nd. So 4WD Modified would be the only class that would come down to the 3rd and final A-Main. Tebo drove perfect to take home the win in A-Main 3 to complete his 1st ever Sweep of all three Modified Classes at one event. Cavalieri once again was runner up, with Dustin Evans capping off a good weekend in 3rd.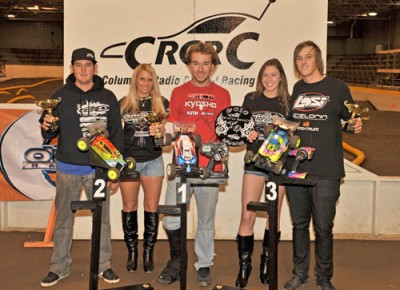 4WD Modified Overall
1. Jared Tebo (TQ)
2. Ryan Cavalieri
3. Dustin Evans
4. Brent Thielke
5. Dakotah Phend
6. Steven Hartson
7. Brandon Rohde
8. Mike Gay
9. Dustin Richards
10 Dan Griffin
Source: Kyosho [kyoshoamerica.com] / Images: CRCRC
---