February 28, 2010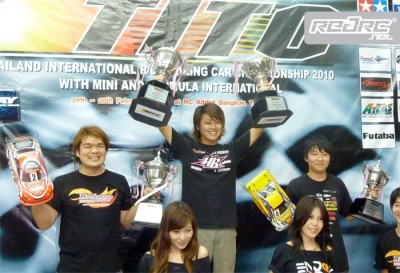 Atsushi Hara has won the modified class at this year's TITC at RC Addict in Bangkok, Thailand. The Japanese Hot Bodies driver started from the pole position after 3 rounds of qualifying, in which the best 2 counted. Fellow Japanese racer Shin Adachi lined up in 2nd ahead of current European Champion Jilles Groskamp and Meen V in 3rd and 4th, with World Champions Hayato Matsuzaki, Naoto Matsukura and Surikarn C. in 5th, 6th and 7th. In the first leg of the A-main, Hara had an early fight with Shin and Jilles but was able to pull away and take the victory. In leg 2 there was more action with Atsushi spinning his tires off the line and allowing Adachi around the outside, 2 laps later and the Kyosho driver overshot the Keyhole turn and Hara was able to retake the lead. Shin managed to stay with the double World Champion for a number of laps before falling back and allowing Atsushi Hara to lock up the 2010 TITC title ahead of Shin in 2nd, Naoto Matsukura in 3rd, while Jilles Groskamp ended the finals in 4th. In the stock class, Siri took the win in A1 and A3 to wrap up the overall title.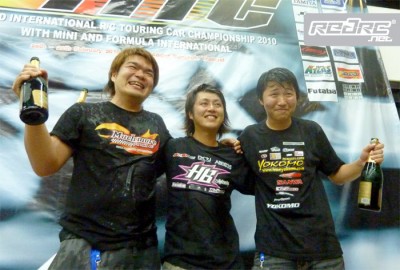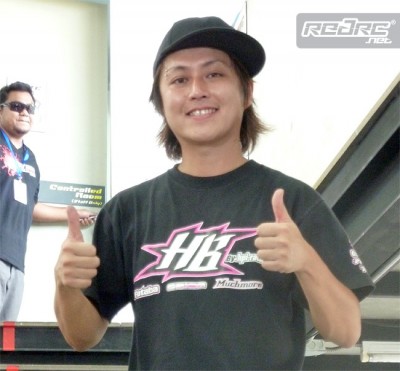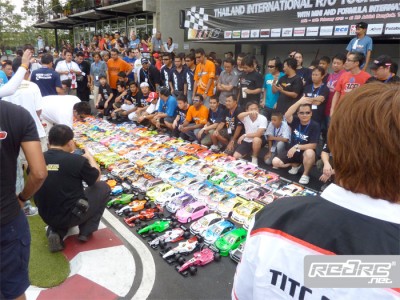 Final Overall modified results
1. Atsushi Hara (JP) – Hot Bodies/Nosram
2. Shin Adachi (JP) – Kyosho/Team Orion
3. Naoto Matsukura (JP) – Yokomo/Nosram
4. Jilles Groskamp (NL) – Tamiya/Team Orion
5. Surikarn C. (TH) – Xray/Nosram
6. Hayato Matsuzaki (JP) – Yokomo/Nosram
7. Andy Moore (GB) – Hot Bodies/Team Orion
8. Meen V. (TH) – Xray/LRP
9. Takayuki Kouno (JP) – Tamiya/LRP
10.Kiyo Suzuki (JP) – Tamiya/Speedpassion
Thanks to Scotty Ernst for the report.
---