February 23, 2010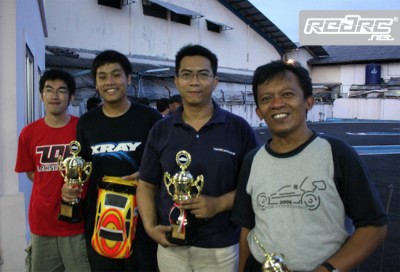 The Warm Up race for the Indonesian 1/10 EP National championship season was held on Sunter International Circuit this past weekend. The race weather was sunny all the day and with 41 drivers in attendance, it showed how the passion of Indonesian racers for 1/10 EP class is back to how it once was. The race was open to modified and stock 11.5 R BL classes and in Modified qualifying It was 2004 1/10 GP World finalist, Teddy Syach, who after a year away from racing, placed his Hot Bodies on the TQ spot, followed by Wiyono, Albert, Kris Heriyana and Bowie Ginting who completed the top 5. In stock qualifying, Sewaka Ramadhani with his Orion powered TOP Photon took the TQ, with Bowie Ginting following him in 2nd place 1 second behind. Yuri Taruna, Imam Liyanto and Hans completed the Top 5.
In the modified final, Bowie Ginting took all the three finals wins to take the overall, while pole man Teddy Syach suffered a glitching and motor problem and ended up down the order. The runner up spot went to Wiyono while Kris Heriyana took the last step of the podium.
Modified results:
1. Bowie Ginting (Xray/LRP/Sanwa)
2. Wiyono (Associated/Orion/Futaba)
3. Kris Heriyana (Tamiya/Speed Passion/Futaba)
In the Stock Final, Bowie Ginting took the first final win while Sewaka Ramadhani took the win in the second. So it went down to the third final, with both Bowie and Ramadhani in with a chance to win. In the first corner after start both made contact with other cars and dropped back but after three minutes, Bowie took the lead from Ramadhani who try hard to keep his lead from Asdi and Bowie. On five minute, Ramadhani got a trouble with his Photon and retired from the race. Bowie Ginting took the last final win and so took the overall followed by Asdi and Yuri Taruna.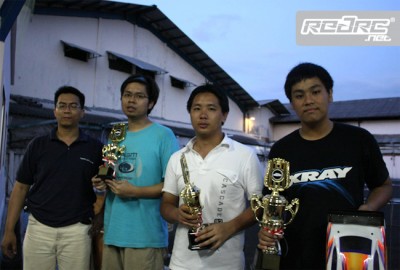 Stock results:
1. Bowie Ginting (Xray/Team Powers/Sanwa)
2. Asdi (Tamiya/E-Pro/Futaba)
3. Yuri Taruna (Xray/E-Pro/Sanwa)
Thanks to Bowie Ginting for the report.
---