February 28, 2010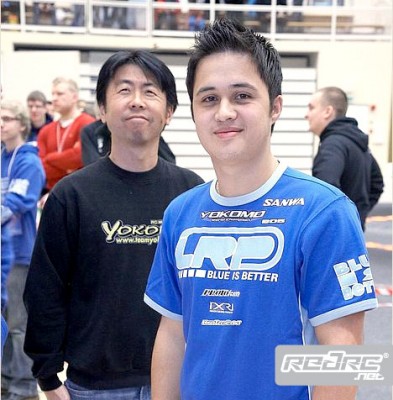 Ronald Volker is the new European Indoor Touring Champion for 2010. The German Yokomo driver once again put in a mistake free final to build the gap to second place driver Christer Andersson bit by bit. Both put in a clean run and Völker didn't give Andersson any chance to close the gap even though he came across traffic at the end. Alexander Hagberg had a better start this leg and kept his 3rd place despite Marc Rheinard being all over the back him. Marc did have a few opportunities to pass Hagberg but thought the better of it to avoid a crash, but eventually rolled his car and let long line of cars go by.
Viljami Kutvonen was doing great and fought with Victor Vilck who looked more secure this round. Kutvonen made a big mistake and rolled his Yokomo, dropping back down the order. Juho Levänen didn't make any mistakes on his way to 4th place and Victor Wilck followed him home in 5th. Teemu Leino had one of the fastest cars again in this leg but he crashed avoiding Rheinard's car, which was in the racing line after his roll. They both looked fast and close the gap to Wilck but didn't get close enough to pass, ending up in 6th and 7th.
Lap times are now much slower than the morning. Drivers are allowed to use new set of tyres for finals, but amounts of traction additive on carpet makes it looser, so cars are not so sharp to drive as before.
Thanks to Teppo Kauppinen for the report. Images: PR Foto [prfoto.com]
---