February 26, 2010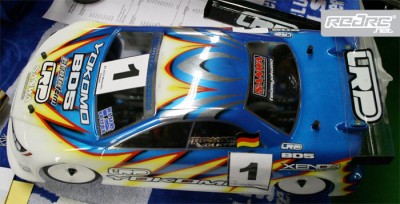 So the first round of qualifying is done and it was Ronald Völker who carried forward his pace from controlled practice to take his LRP powered Yokomo to TQ spot. Völker made some really fast times during the first 5 minutes, but local guy Christer Andersson came really close at the end with a safe run. Christer told that us his car was a little on the difficult side to drive and he needed to drive really smoothly to avoid mistakes. For the next qualifying round he plans to rebuild the diff and hopes to take top spot.
Third place went to Tamiya´s Victor Wilck who had improved his car with new tyres and by doing that found good speed. He was running with used tyres all morning and didn't make it to the top. My guess is that he saved speed (and tyres) until qualifying where it counts more. Alexander Hagberg made a solid run falling just slightly behind from Wilck´s time but getting ahead of Marc Rheinard, who made some small mistakes. Teemu Leino took 6th place even though he was running with a loose left rear shock and you could see from the outside that something was wrong whit his car.
Viljami Kutvonen has been the most consistent driver today making solid results all day. During this round he took the 7th place. He is running Yokomo with a new chassis which is made just for LiPo´s. He is happy with the car and told us it´s working great without him needing to worry about it rolling over. After a good start he is looking forward to improve and leave small mistakes behind during the next round. Freddy Sudhoff, Juho Levänen and Adrian Berntsen also made it to the top ten. Berntsen´s Xray T3 looks really good at the track but he still made some mistakes.
Top 10 from Qualifying round 1
1. Ronald Völker – 25 Laps in 5:10.819
2. Christer Andersson – 25 Laps in 5:11.451
3. Viktor Wilck – 24 Laps in 5:01.637
4. Alexander Hagberg – 24 Laps in 5:01.786
5. Marc Rheinard – 24 Laps in 5:02.873
6. Teemu Leino – 24 Laps in 5:03.230
7. Viljami Kutvonen – 24 Laps in 5:03.510
8. Freddy Südhoff – 24 Laps in 5:04.178
9. Juho Levänen – 24 Laps in 5:06.032
10.Adrian Berntsen – 24 Laps in 5:06.148
Timing and results can be found on the official event site here.
Thanks to Teppo Kauppinen for the report.
---