February 8, 2010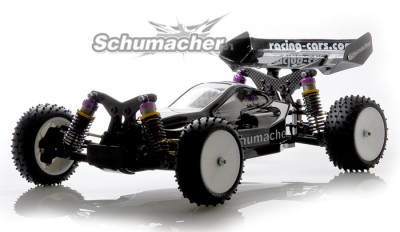 Following on from the successful Cat SX, Schumacher introduces the new Cat SX2. Now even stronger and more durable than ever before the new 4wd buggy is fitted with all new large capacity 13mm big bore shocks and high downforce max sized rear wing. Claiming to be the best balanced car in its class, with optimum weight distribution due to its new stick pack lipo layout chassis and near centre motor position. An ultra efficient transmission makes the CAT SX2 incredibly quick off the line and offers awesome straight line speeds.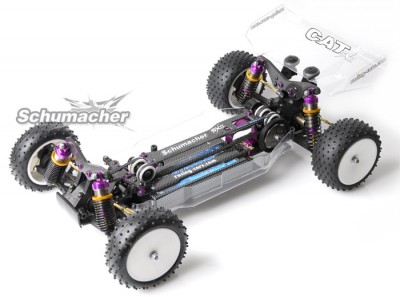 Features
– 3 belt transmission with efficient low tension belts running on large size CNC machined pulleys.
– Adjustable internal transmission ratio (2.2, 2.4, or 2.6:1) to optimise ratio for brushed or brushless motors.
– Motor rotates the same direction as the wheels creating a car with superb jumping responsiveness and no torque steer effect as is common with shaft drive cars.
– Super free ball diffs with silicone nitride balls, pro spec thrust bearing, and  steel diff outputs.
– Strong steel universal joint driveshafts.
– Smooth twin pad slipper clutch with easy access adjustment running on a New tougher 5mm black spur gear.
– Unique clamp motor mount to fine tune weight distribution, and allow motor changes without affecting gear mesh.
– Industry standard wheel fittings.
– Layshaft or front one way Speed Secret option.
– Overdrive front pulley Speed Secret option.
– Optimum weight distribution with stick pack lipo layout.
– New 2.5mm aerospace grade carbon fibre chassis and top deck.
– Horizontally split transmission housings for ease of maintenance and diff access.
– Ultra narrow chassis design to minimise grounding on roll.
– New Stronger front & rear wishbones.
– New Stronger 4mm front pivot block screw.
– New Lighter plastic eccentric housings for adjustment of belt tension and diff height.
– Rigid servo mount directly onto transmission housing for precise steering.
– Dirt protected with tight fitting body and undertray.
– O ring wing mount system to avoid crash damage.
– New Max sized rear wing.
– Class leading suspension geometry with durable components and a range of optional alloy parts, offering adjustments to set up your CAT SX2 to any track conditions.
– New more durable plastic pivot block system with the ability to adjust track width and toe in/toe out.
– Adjustable rear roll centres, inboard toe-in/toe-out, anti squat and track width using optional alloy block Speed Secret parts.
– Adjustable front roll centres, inboard toe-in/toe-out, track width and rake angle using optional alloy block Speed Secret parts.
– New Pro spec big bore shocks with titanium nitride shafts, CNC machined pistons with recessed 'e'clips, threaded collars, twin O ring sealing and diaphragm volume compensation.
– Strong and rigid 4mm carbon fibre shock brackets.
– New lighter plastic steering arms.

S1 Specification includes:
– Tough S1 composite chassis and top deck with optimised flex.
– Tough S1 composite shock towers.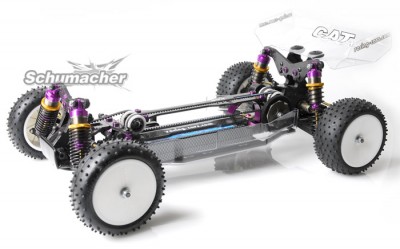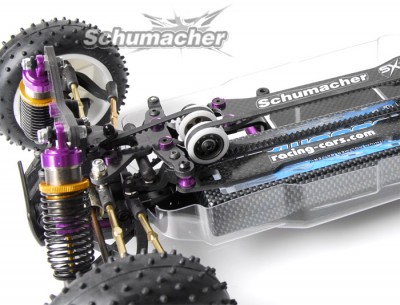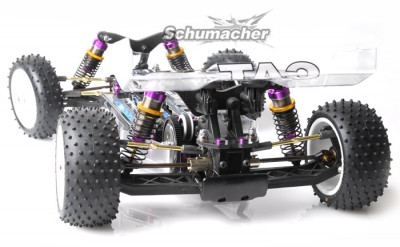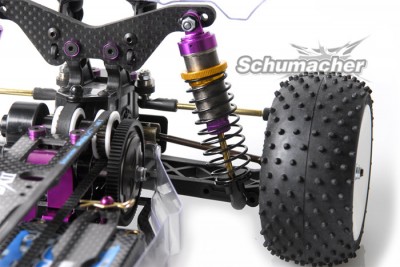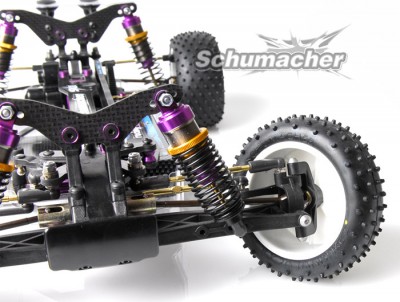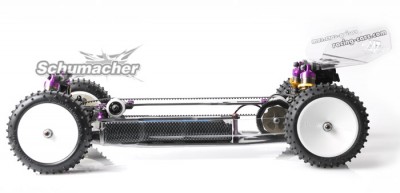 Source: Schumacher [racing-cars.com]
---