March 16, 2010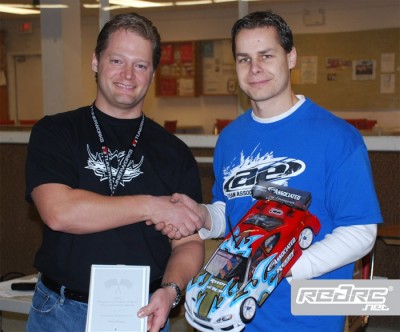 The Western Canadian Indoor Championship Series (WCICS) is the longest running RC racing series in Western Canada consisting of 4 venues over the winter season in Alberta and Saskatchewan and is attended by most of the top racers from BC, Alberta, Manitoba, Saskatchewan, Montana and the Dakotas. The 2010 WCICS final event was hosted from March 12-14th by the CARCAR club in Calgary, Alberta, fielding 120 entries from across Western Canada.
[youtube]http://www.youtube.com/watch?v=9qyyLjzXbis[/youtube]
In the Touring Stock A-main, Associated-Reedy-LRP driver Peter Tozser (TC5-R/LRP SXX SS) checked out to an early lead from the TQ position and held onto it for the 6 minute duration. After a hard fought battle, Korgae Scales secured 2nd spot (Xray T3/Tekin), with Doug Martin rounding out the podium (Xray T3/Tekin).
[youtube]http://www.youtube.com/watch?v=3rIUVnLf1Ok[/youtube]
In the Touring Super Stock A-main, TQ Peter Tozser stretched out a 6 second lead by the half way mark, but that disappeared with a bobble in the infield section, giving up the lead to Doug Martin. The closing two minutes of the main provided a close battle between Doug and Peter, with Peter Tozser taking the lead back on the very last lap for the win and Doug Martin finishing 2nd. Greg Mills drove his Xray T3/Tekin ride to the 3rd spot.
With these results, Peter Tozser also claimed the overall 2010 WCICS series championship in both the Touring Stock and Touring Super Stock classes.
Thanks to Peter Tozser for the report.
---