May 14, 2010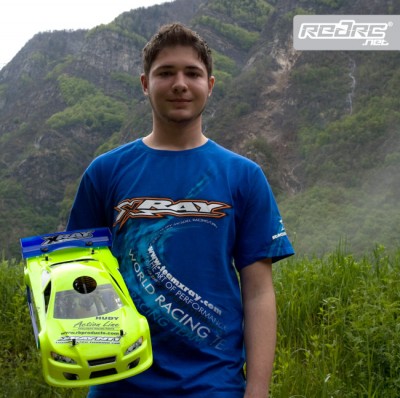 With practice now over at the rain affected European 1/10th scale 200mm 'B' Championships in Lostallo Switzerland, a lot of drivers have had less than 30 minutes track time on this demanding track due to the weather before qualifying got underway. Friday's action went better for the 110 drivers who got some dry track running and many were surprised that it had maintained its grip level despite it having been so wet the previous days.
UPDATED: With full gallery from Friday.
The first round of qualifying was completed on a dry track and it was top Austrian driver Manuel Singer that is setting the early pace. The young Xray driver, and former National Champion, was happy with his run and delighted to be on the top spot overnight despite making 2 small mistakes, something which he says is easy to do on this large track.
Sitting in the 2nd spot overnight is another youngster, Maxim Claes from Belgium, whose time is only less than 7 tenths of a second behind the pole sitter. The semi finalist at both last year's 200mm A and B Euros felt that while his car was good but he can improve the setup still further. He also believes that the track was getting faster in the final heats due to the return of the bad weather and this made the cars get some extra speed, making these times pretty hard to beat for the coming rounds.
In 3rd position it is German driver Patrick Gassauer, the Kyosho driver is only 3 tenths further back. Having started the run cautiously, he knew to push harder during the heat after some words from his crew in pitlane below. His car was ok but thinks tomorrow will be a lottery if the weather continues to be as uncertain as it has been throughout the week.
Completing the top 4 is Eduardo Dulac, who from Brazil is representing Portugal and has been a regular on the European racing scene the past few years along with his fast pit woman and wife Kelly. Working closely with Shepherd front man Patrick Schaefer, he was happy with his first round and because he has so little practice, believes that he can definitely improve the car and his times tomorrow.
Tomorrow sees the final 3 rounds of qualifying take place, the event running a reduced number of qualifying rounds due to the weather.
Top 10 after round 1 of 4
1. Singer Manuel (AT) – 19 Laps in 7:06.066
2. Claes Maxim (BE) – 19 Laps in 7:06.754
3. Gassauer Patrick (DE) – 19 Laps in 7:07.037
4. Dulac Eduardo (PT) – 19 Laps in 7:08.022
5. Barbera Guido (IT) – 19 Laps in 7:10.231
6. Stammler Dirk (DE) – 19 Laps in 7:11.587
7. Leroux Quentin (FR) – 19 Laps in 7:12.252
8. Eytard Thomas (FR) – 19 Laps in 7:12.876
9. Rombouts Pedro (NL) – 19 Laps in 7:13.584
10.Born Daniel (CH) – 19 Laps in 7:14.229
Full results can be found here.
Thanks to Ruben D'Arco for the report and photos.
---