May 10, 2010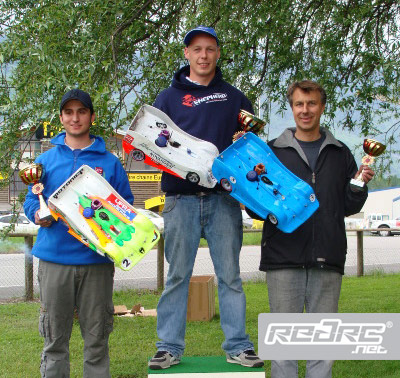 Last weekend saw the second round of Swiss 1/8th scale National Championship take place in Aigle, on a very technical track, renamed this year the Sebastien Buemi Circuit and factory Motonica racer Mattia Pesenti sent us this report. Saturday morning we had just 30-45 minutes to practice because the track was wet and in the afternoon we started with the qualifying rounds. I had a perfect car and I had a really good feeling with it and had the pole position for the first two rounds before round 1 winner Shasa Lackner had a really fast round doing 24 laps in 7'17'' leaving myself and Marco Mueller in 2nd and 3rd with 23 laps.
In the last round Mueller was doing a great time but he had a crash passing another driver. I tried to push in the last round to do the pole position but I did 23 laps in 7'00''. Martinelli and Kurzbuch had also a very good round.
Top 4 Qualifying:
1. Lackner Shasa (Motonica/Murnan/Hot Race Tyres)
2. Pesenti Mattia (Motonica/Novarossi/UFRA)
3. Martinelli Luca (Mugen/Max/UFRA)
4. Kurzbuch Simon (Shepherd/Max/Capricorn)
Sunday was cloudy but fortunately no rain arrived. Shasa and me we started the final really fast with Martinelli and Mueller following us. After 10-15 mins Shasa broke his first gear and I took the 1st place in front of Mueller and Martinelli. Everybody had to change tires two times and the work of the mechanics was really important. I had a problem on the first change and after it I was 3rd behind Martinelli and Mueller. We fought for the first place for the whole race but at 10mins from the finish Mueller had 5 seconds advantage from me and Martinelli. I tried to reach him but my tires were finished and I finished 3 seconds behind. Great race!
Top 5 Final results:
1. Mueller Marco (Shepherd/Novarossi/UFRA)
2. Pesenti Mattia (Motonica/Novarossi/UFRA)
3. Martinelli Luca (Mugen/Max/UFRA)
4. Hächler Silvio (Mugen/Novarossi/ATS)
5. Nydegger Jürg (Shepherd/Max/UFRA)
Thanks to Mattia Pesenti for the report.
---