May 16, 2010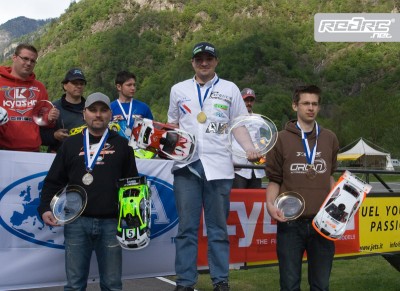 French top qualifier Mathieu Wullyamoz has taken the European 1/10th 200mm 'B' title for Capricorn in Lostallo, Switzerland following a recovery drive after a bumpy start for the pack. Dropping down the order after being hit on Lap 1 Mathieu was able to dig deep and retake the lead at the mid way point and once up front was able to control the pace for the final 15 minutes. Knowing that his competitors needed to change tires he felt he could keep a solid pace by preserving his tires and not making a stop.
Runner up from Germany, Dirk Stammler driving a Serpent 733, was happy with his 2nd place from 5th on the grid. He pitted for tires at the 20 minute mark and lead at the mid way point until a flame out, which cost him close to 40 seconds dropped him back down the order. He managed to recover, but couldn't overcome the leader and finished 8 seconds back at the end.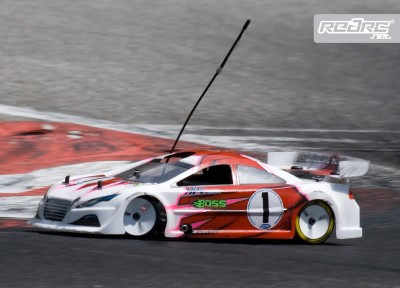 Taking third for Xray was the German driver Simon Balk, who was slow at the beginning of the 45 minute final as he tried to conserve his tires and keep the wear down. Moving up from 9th on the grid, he too didn't make a tire stop, but his strategy nearly came to nothing as he was pushed off the track by another racer which cost him half a lap and also had the body get caught up on the tire which cost him even more time. Delighted with the result, overall he was pleased with how the race played out.
Taking 4th place was Thomas Eytard, the French Xray driver was looking good for a podium placing until his tires simply let go and he was unable to keep pace and dropped back. The 4th and 3rd placed qualifiers respectively, Maxim Claes and Manuel Singer finished in 5th and 6th, while Traugott Schär, Bernd Rausch and Eduardo Dulac completed the lower places.
The most unfortunate racer was Italian Xray driver Guido Barbera who was another battling up front for most of the race and even lead near the mid way point, but a missed pit stop cost him valuable time and his race then came to an end when he clipped the race leader while he was unlapping himself, putting him out for good.
Final results
1. Wullyamoz Mathieu (FR) – 116 Laps in 45:07.691 (Capricorn)
2. Stammler Dirk (DE) – 116 Laps in 45:15.396 (Serpent)
3. Balk Simon (DE) – 116 Laps in 45:22.668  (Xray)
4. Eytard Thomas (FR) – 115 Laps in 45:24.348 (Xray)
5. Claes Maxim (BE) – 114 Laps in 45:00.654 (Xray)
6. Singer Manuel (AT) – 114 Laps in 45:09.611 (Xray)
7. Schär Traugott (CH) – 112 Laps in 45:03.214 (Xray)
8. Rausch Bernd (DE) – 111 Laps in 45:06.255 (Kyosho)
9. Dulac Eduardo (PT) – 109 Laps in 45:14.961 (Shepherd)
10.Barbera Guido (IT) – 106 Laps in 41:29.012 (Xray)
Full results can be found here.
Thanks to Ruben D'Arco for the report and photos.
---