August 21, 2010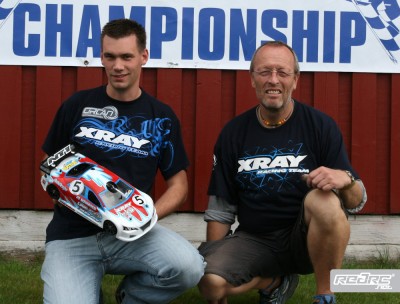 Reigning European Champion Dirk Wischnewski has claimed the top qualifying spot at this year's 1/10th 200mm European Championships in Gothenburg Sweden today. Rain fell on and off today meaning that the front runners were unable to improve their times and so with Dirk's TQ run from round 1 he was able to take pole position and is now one step closer to retaining his title that he won in Italy last year. Dirk is of course happy to take the top spot but didn't expect it after what he believes was a disappointing Worlds. With the weather forecast expecting rain tomorrow he has now tested rain tires with his rain car in the last qualifier but he said it was hard to test, as the track was drying again.
Danish driver Martin Christensen is obviously happy with being 2nd and believes that he fully deserves this position having had a good pace all week. Having competed, and won, at this track at last month's Nordic Championships the Capricorn driver is feeling confident for tomorrow's 45 minute A-main. He has a second car ready for the wet, but feels its just tires that will make the difference and has seen other teams sending their drivers out on different tires in a bid to find the best ones for the varying conditions.
Sitting in 3rd position is Marc Rheinard, the Shepherd driver admitting that he has never driven a nitro car in the wet before. With his rain car ready for tomorrow's finals, he said that he will test in the 20 minute top 4 practice if it is raining but is determined that the forecasters have it wrong and that it wont rain. Robert Pietsch, the top qualifier at the Worlds in Houston is not happy with not being on the TQ spot but shares Marc Rheinard's optimism that it wont rain however he is ready for whatever the conditions will be, having prepared a rain radio plate.
First of the non direct qualifiers, Mark Green is disappointed with qualifying but 'that's just the way it is'. He hasn't tested in the rain but has lent out his tires to a number of his team mates to let them do the donkey work and has found 2 sets of tires that he is happy with. Talking about the Serpent 733, he has been very happy with the car and believes the DLS system, that made its debut in Houston last month, will be a big advantage in the wet conditions.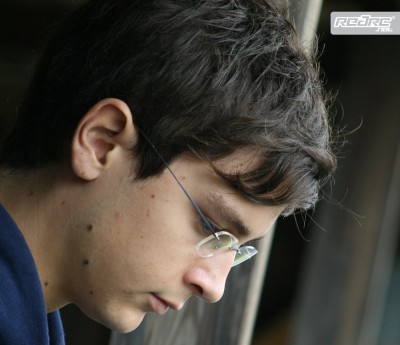 Disappointed with the outcome of qualifying top Swedish racer Alexander Hagberg rues a mistake in Q1 which cost him 2 seconds, which would have put him in the top 4. Hoping for better luck tomorrow, he is another of the drivers who has braved the wet conditions to test tires. Team mate Martin Hudy had an even worse time of it, having had a problem with his fuel tubing in Q1 and with all his other qualifiers wet, he now sits in last position and has a lot of work ahead of him if he is to have a repeat of his final appearance last year.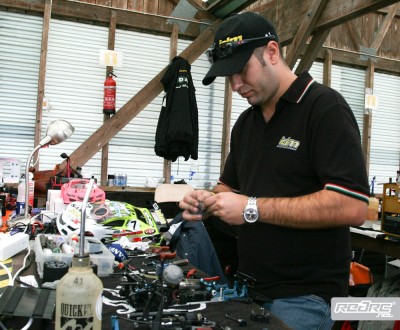 Former World Champion Daniele Ielasi reflected the statements of the other drivers saying that it is preventing the engine from taking in water and tires that are the most important thing in the wet conditions. The Shepherd driver has found that full rain tires only work when the track is completely wet, while on a moist track rubber tires work better where one would expect foams to be the best choice.
Tomorrows action kicks off with the 1/16th final through the main final where we will see the 2010 European Champion crowned regardless of the weather.
Top 18 Qualifiers
1. Dirk Wischnewski (DE) – Xray/Orcan
2. Martin Christensen (DK) – Capricorn/Capricorn
3. Marc Rheinard (DE) – Shepherd/Novarossi
4. Robert Pietsch (DE) – Mugen/Novarossi
————————————–
5. Mark Green (GB) – Serpent/Novarossi
6. Alexander Hagberg (SE) – Xray/Max
7. Adrian Berntsen (NO) – Xray/Capricorn
8. Manuel Huber (AT) – Xray/Max Power
9. Crister Andersson (FI) – Capricorn/Sirio
10.Jilles Groskamp (NL) – Shepherd/Team Orion
11.Kyle Branson (GB) – Serpent/Sirio
12.Michael Salven (DE) – Serpent/Mega
13.Mikael Fransson (SE) – Mugen/Orcan
14.Francesco Martini (IT) – Xray/Max
15.Teemu Leino (FI) – Xray/Team Orion
16.Daniele Ielasi (IT) – Shepherd/IDM
17.Frank Andersen (NO) – Xray/Max
18.Adam Catchpole (GB) -Mugen/Orcan
Full event results can be found here.
Image Gallery (roll over image for description)
Thanks to Ruben d'Arco for the report and photos.
---