September 16, 2010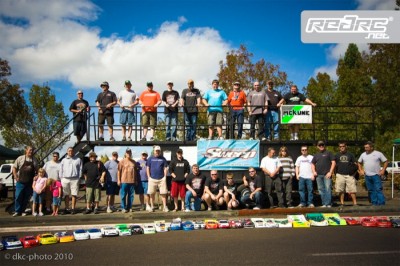 On a beautiful Labor Day weekend in Portland, Oregon, Rose City Scale Racing hosted the 2010 RCSR Grand Prix. Drivers were faced with a technical layout, with multiple fast kinks, off-camber turns and elevation changes, thanks to the nature of the landscape. Traction was high, but due to the changing temperature, drivers were faced with decisions on tire management and setup. The format for the weekend was 3 qualifiers on Saturday, LCQ and Mains on Sunday.
Sunday saw a change of weather, morning hovered around 60 degrees, the sun was trying to break through the overcast sky. However, despite the cooler temperature and the need of a hot cup of coffee, drivers welcomed the lower temperature that resulted in higher traction. During the LCQ, all TQ times set on Saturday were in danger. The only drivers that were able to better the previous TQ times were Sweep's own, Kody Knudston, in the 17.5 Expert class and Mike Ellis of R/C America/Tammie's Hobbies in Nitro Sedan. The Mains are now set for a fierce showdown.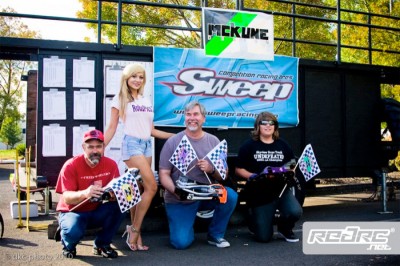 Pro10 was the retro race of the weekend. TQ, Mike Godson, using his vintage fiberglass RC10L and a fast 9.5 was able to wrap up the overall win in 2 Mains, followed by the Valderrama family affair, where father, David,was able to better son Ivan, to take 2nd place overall.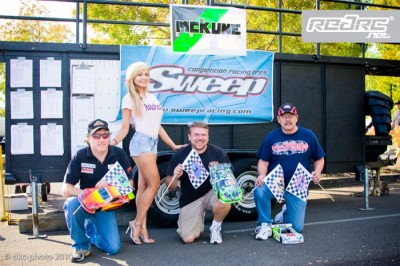 World GT A1, TQ Mike Ellis (RC America/Tammies Hobbies) led the entire race with clean and precise driving while stretching his lead on Troy McKune (McKune Designs). However, with seconds remaining on the clock, his front right steering rod came loose, which enabled McKune to get on his rear bumper with two corners to go. With a last ditch effort to past Ellis, McKune spun just before the last corner. Ellis took the A1 win with McKune coming home in 2nd, followed by Jeff Holt. Ellis' fortune ran out in A2, as he touched a pipe early, that let McKune by, followed by another mistake dropped him into 3rd behind Holt. McKune eventually took the A2 win. In A3, an ill-handling car haunted Ellis again. With clean and precise driving, McKune took the A3 win followed by Holt and Ellis. With 2 wins, McKune claimed the overall win, Ellis and Holt were tied in points for 2nd, but Ellis claimed 2nd overall by a tiebreaker.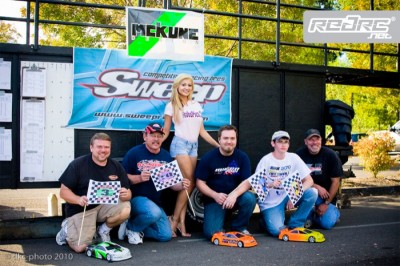 The Nitro Sedan main was filled with excitement. TQ Mike Ellis (RC America/Tammies Hobbies) took an early lead but made a costly mistake dropping him to 5th, handing the lead to Tom Camou (Mugen USA/RC Plus / RC Cars), followed by Troy McKune (Mc Kune Designs) and young gun, Mike Todd. Ellis eventually passed Todd on lap 12 for 3rd. Unfortunately, Ellis' charge was cut short with a lost front wheel mid-way through the 20 minute Main. Meanwhile, Camou stretched his lead with clean laps and a controlled pace, while McKune was holding on 2nd place. Near the end of race, Todd made a charge to pass McKune for 2nd and chased down Camou, but due to some hard charging driving, he ran out of fuel with two corners to go. Camou hung on for the victory followed by Todd, McKune and Ellis in a distant 4th.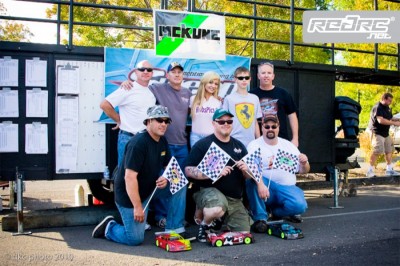 In 17.5 Sportsman, TQ Chris Huddleston (Timezone Racing/RC Plus) checked out early in A1 and stretched his lead with some clean, fast laps. The battle behind him was with Joe Casey and Jim Meyer trading 2nd place. At the end of A1, it was Chris that took the win followed by Casey and Meyer. A2 saw a change of fortunate, Huddleston touched a pipe early that gave Casey the lead. While Huddleston was trying to make up lost time, he pushed too hard with aggressive driving that saw him made a few more mistakes that enabled Grant Shatz to pass for 2nd. Casey took the A2 win, followed by Shatz and Huddleston. With 1 win apiece, the showdown is now set between Huddleston and Casey in A3. A3 saw some brilliant driving by both Huddleston and Casey, gunning for the overall win. It was Huddleston's gamble to tune his motor down 5% to adapt to a greasy track that saw him take both the A3 and the overall win in the 17.5 Sportsman, followed by Casey and Shatz in the overall classifications.
17.5 Expert TQ, Sweep sponsored driver, Kody Knudtson, dominated all weekend, he was the only driver two clocked a 19-lap qualifying run. In keeping his dominating fashion, Knudtson charged out to a sizeable lead before controlling the race pace to take the A1 win. Behind him, Mike Todd and Tim Getchell had a great battle which came down to the last corner where Todd was able to hang on to 2nd, followed by Getchell and Jack Leighen for 4th. Knudtson would be hard to beat this weekend. Knudtson stamped his authority in the A2 Main by charging out to a huge lead that no other drivers had an answer for. Ultimately, his domination was confirmed with another 19-lap run of the weekend. Behind him, Getchell claimed 2nd and a tight battle between Leighen and Todd, that saw Leighen take 3rd place, followed by Todd. With Knudtson already claiming the overall win, it was down to Getchel and Todd fighting for the 2nd step on the podium. Todd started the A3 race with a huge mistake that dropped him to last place, but he made a charge all the way back up to 2nd behind Getchel. While driving closely behind Getchel, Todd was able to force Getchel into a mistake and took over the lead. However, in the final lap, Getchel made a brave move to pass Todd. With the A3 win, Getchel was able to claim 2nd place overall, followed by Todd and Jack Leighen.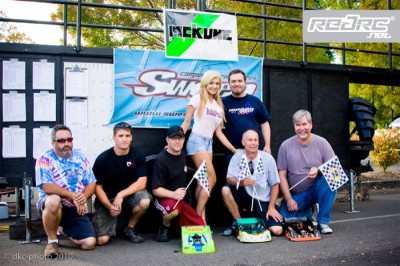 1/8th Scale is no doubt the fastest class of the weekend. TQ, Andy Wells was Mr. Consistent all weekend and charged out to the lead. Wells and Richard St. Cyr (Timezone Racing) traded positions after the first pit stop, but Wells was able to find a way pass for the lead. St. Cyr eventually made a costly mistake that took his right front end off and ended his race. Mike Godson, now inherited 2nd place and battled with Rob Udrill for the next 10 minutes. Tom Camou, suffering from an early crash, continued to have mechanical problems. With 5 minutes remaining, it was Wells, out to a big lead, followed by a tight battle between Udrill, Godson and Camou. Unfortunately during the last pit stop, Urdill's car died and could not be restarted quickly, and gave Godson 2nd place. Camou can regain 3rd place, but once again was plagued by mechanical gremlins and had to pit for repairs. With 2:30 left in the race, Wells was struck by a torn rear belt. Godson can now make a run on Wells for the lead, but the racing god was not on his side as his front belt stripped at the worst possible time. Wells and Godson were able to limp their cars home to take 1st and 2nd, followed by Udrill and Camou. What an unpredictable and exciting race.
Thanks to Dominic Chung for the report.
---