September 27, 2010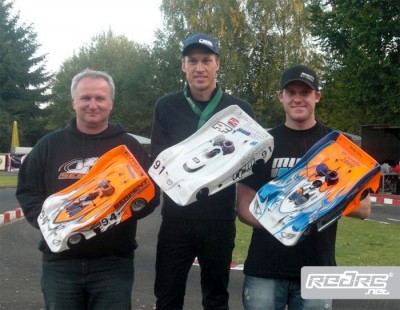 Robert Pietsch has become German Champion in the 1/8 nitro class 1 category. With this success the Mugen factory driver has given the new MRX5 chassis, which at long last will hit the market in the next few days, a second title following the European Championship in Italy three months ago. German Champion in class 2 was Klaus Lechner racing a Serpent 966.
Held at Roetz in the Southeast of Germany the one-event German Championship attracted a total of 82 drivers, which have qualified in five German regions. The 248 meter long and narrow track is one of the oldest rc circuits in Germany. Lots of drivers made ruggedly acquaintance with the concrete barrier in the chicane and some other close-by and unforgivable barriers. After a day of unofficial testing, the German Nationals started with two days of practice, followed by five heats on Saturday and the finals on Sunday. Once again the nitro season was hampered by rain, the qualifying rounds were washed away. Because the paddock was too small for the number of competitors lots of racers had their working area under tents on grass which turned into pure mud on Saturday.
Fastest under dry conditions was Robert Pietsch in the practice heats five and six on Friday afternoon, which were essential for the seeding of the heats. Pietsch did a 1.08,442 minutes for five consecutive laps but he was closely followed by Michael Salven (1.08,787). Eric Dankel (Mugen/1.09,913) was third in front of Patrick Schaefer (Shepherd/1.10,103) and Steven Cuypers (Mugen/1.10,330).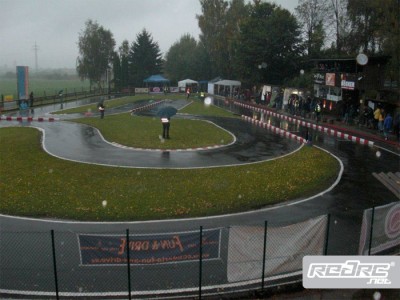 But all experience from practice became useless with the rain hitting the track on Saturday. It was "Mr. Serpent" Michael Salven who was the only racer completing 21 laps. His result from heat three meant pole position for him. Juergen Hennemuth (Serpent), Robert Pietsch and Christoph Pietsch (Mugen) joined Salven for the top 4 direct qualifier. Also 20 laps were done by Lars Hoppe (Shepherd), Steven Cuypers (Mugen), Robin D'Hondt (Motonica) and Frank Schewiola (Serpent), 19 laps by Alain Levy (Serpent), Oliver Mack (Shepherd), Uwe Baldes (Mugen), Sabrina Lechner (Serpent), Armin Baier (Mugen), Nicolai Baehr (Shepherd), Toni Gruber (Serpent) and Tobias Hepp (Serpent). Just to mention that newly crowned 1/10 champion Eric Dankel was the only class 1 driver who refused to race in the wet.
Sunday morning welcomed the 1/8 family with a slowly drying track. From 1/8 final Bernd Zachmann, Friedrich Debert, Maximilian Vogl, Emil Kostadinow, Norbert Huegel and Tom Scheffler stepped up in the next round. Andreas Hammerl, Dominik Mayer and Manuel Dietrich in quarterfinal B as well as Andreas Giesa, Philip Sting and again Maximilian Vogl in quarterfinal A took the essential top 3 spots. Patrick Schaefer and Christian Wurst became the first prominent victims of the circumstances.
Beginning with the semi finals the track was declared as dry. Only five racers completed the 30 minutes semi final B. Steven Cuypers (Mugen) won with 119 laps and 2.6 seconds ahead of Andreas Hammerl (Kyosho). Oliver Mack (Shepherd) was third with 115 in front of Karl-Heinz Meister (Serpent/111) and Tobias Hepp (Serpent/108) but that was not enough to bump up. Sabrina Lechner (Serpent), Manuel Dietrich (Serpent), Dominik Mayer (Shepherd), Frank Schewiola (Serpent) and Nicolai Baehr (Shepherd) didn't make it to the finish line. Semi final A was a battle between reigning champion Robin D'Hondt (Motonica) and Andreas Giesa (Serpent) with the Belgium coming out on top after 119 laps with a seven seconds advantage. With 117 laps Armin Baier (Mugen) and Philip Sting (Mugen) were lucky to achieve the last two spots in the final grid. Toni Gruber (Serpent/116), Maximilian Vogl (Shepherd/115), Merlin Depta (Serpent/113) and Alain Levy (Serpent/111) finished the race on positions five to eight. Only Uwe Baldes (Mugen, rear belt) and Lars Hoppe (Shepherd, hit the pit lane entrance) didn't make it to the end.
The 45 minutes final race seemed to become a battle between Michael Salven and Robert Pietsch. Salven took the early lead from pole position but in lap 18 Salven could not resist against Pietsch who pulled away with his MRX5 even in cruise mode following the fastest lap with 13,845 seconds. His victory with a five lap advantage was never in doubt when Salven unfortunately hit the wall at the chicane to retire with a broken rear left wishbone after 43 laps. Philip Sting, coming from 23rd position after the heats, took over second position closely followed by Andreas Giesa coming from 29th. The battle was open until the end with changing positions but with the better end for Giesa who finally took second spot one lap ahead of Sting. Another lap down was Andreas Hammerl (Kyosho) who has been on 24th spot in the heat ranking and crossed the finish line on fourth. He was followed by Christoph Pietsch (168) and Robin D'Hondt (167) who was hampered by engine troubles throughout the race. Steven Cuypers had a quick car but was stopped with several technical issues and didn't finish the race to be classified on sixth ahead of Salven, Juergen Hennemuth (servo) and Armin Baier (engine).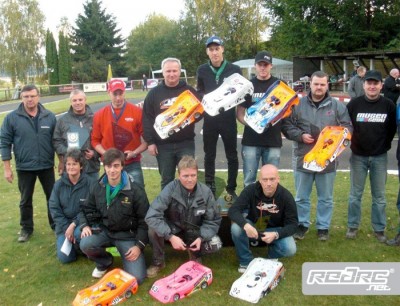 Result of the class 1 final (chassis/engine/tires/body/fuel/radio):
1. Robert Pietsch, 184 laps – Mugen / Novarossi / RPM / PF 909 / MLC / Sanwa
2. Andreas Giesa, 179 – Serpent / Max / Xceed / Zytek 1 / Xceed / Sanwa
3. Philip Sting, 178 – Mugen / Reds / Enetti / Zytek 2 / Tornado / KO
4. Andreas Hammerl, 177 – Kyosho / Orion / Matrix / Zytek 2 / Team Orion / KO
5. Christoph Pietsch, 168 – Mugen / Novarossi / UFRA / PF 909 / MLC / Graupner
6. Robin D'Hondt, 167 – Motonica / Gimar / Contact / PF 909 / Merlin / Sanwa
7. Steven Cuypers, 113 – Mugen / Picco / Enetti / PF 909 / Capricorn / Sanwa
8. Michael Salven, 43 – Serpent / Mega / Xceed / PF 909 / Xceed / Sanwa
9. Jürgen Hennemuth, 43 – Serpent / Max / Xceed / Artec / Xceed / KO
10.Armin Baier, 37 – Mugen / Novarossi / IDM / Zytek 2 / MLC / KO
Andreas Giesa was crowned as German Champion 40+, German Junior Champion became Toni Gruber and German Youth Champion Maximilian Vogl.
In class 2 Dirk Drechsler (Mugen) was the only driver to do 19 laps to capture pole position. Timo Schroeder ((Shepherd), Oliver Lembeck (Serpent) and Klaus Lechner (Serpent) completed 18 laps to join Drechsler directly into the final.
Martin Holdermann, Peter Graf and Eckart Blau as well as Christian Willert, Bjoern Moehring and Felix Hetzer took the top 3 spots in the quarterfinals. From semi final B Alexander Schmitt (99 laps) and Eckart Blau (98) bumped up as well as Sascha Wettengl (110), Marcel hendriksen (109), Olaf Engelmann (102) and Michael Henschel (100).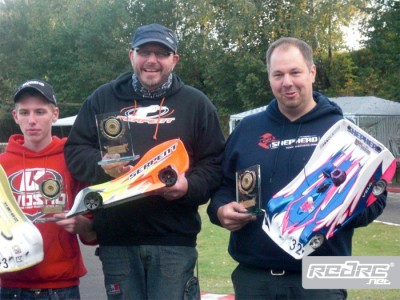 The 45 minutes final was an exciting race with lots of close but fair fights and four different leaders. While pole setter Dirk Drechsler dropped back to seventh position during the first lap, Oliver Lembeck was the early leader until lap five when Sascha Wettengl took over and led the field until lap 115 to retire after 116 laps. Marcel Hendriksen (Kyosho) was excited about the lead only for two laps before Klaus Lechner achieved the lead which he defended until the chequered flag to catch a well deserved title. Finally Klaus Lechner had a one lap advantage over Hendriksen on second while Alexander Schmitt on third was already eleven laps down. Eckart Blau (Mugen) finished fourth followed by Timo Schroeder (Shepherd), Michael Henschel (Serpent) and Oliver Lembeck (Serpent). At the 30 minutes mark the race came to an end for Sascha Wettengl, Olaf Engelmann and Dirk Drechsler, who managed to move up temporary to third following his first lap issue.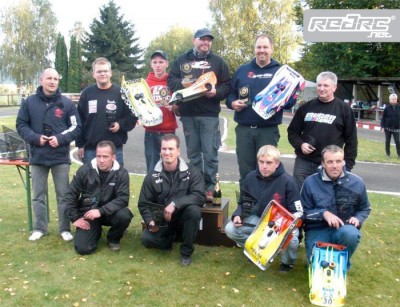 Result of the class 2 final:
1. Klaus Lechner, 170 laps – Serpent / IDM
2. Marcel Hendriksen, 169 – Kyosho / Picco
3. Alexander Schmitt, 159 – Shepherd / Novarossi
4. Eckart Blau, 157 – Mugen / RB
5. Timo Schroeder, 151 – Shepherd / Mega
6. Michael Henschel, 150 – Serpent / Mega
7. Oliver Lembeck, 120 – Serpent / Novarossi
8. Sascha Wettengl, 116 – Serpent / Mega
9. Olaf Engelmann, 108 – Shepherd / Novarossi
10.Dirk Drechsler, 102 – Mugen / Reds
While Lechner also took the 40+ title, Timo Schroeder became youth champion and Maximilian Guenther junior champion in class 2.
Source: Nitro West [nitro-west.de]
---