September 30, 2010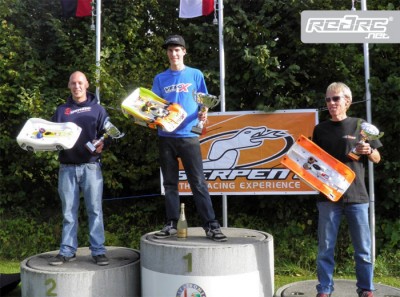 The 6th round of the Swiss 1/8th scale Nationals took place in Langenthal last weekend. Even if the two Swiss Champions in the Amateur (Stefan Köhl/Shepherd Velox) and Expert (Mattia Pesenti/Motonica) classes were decided, a lot of racers still arrived Friday but the weather and the track was too wet for getting a good setup and just one driver tested his car in Friday afternoon. On Saturday the weather was again bad, but the race must go on and so all racers took part in qualifying and at the end of the day there were some unfamiliar drivers at the front.
The direct qualified drivers for the main finals.
The 4 directly qualified drivers in the Expert class:
1. Thomas Henzi (Mugen/Max/Runner Time/UFRA)
2. Marco Müller (Velox/Novarossi/MLC/UFRA)
3. Michael Henzi (Mugen/Max/Runner Time/UFRA)
4. Mattia Pesenti (Motonica/Novarossi/??/??)
The 4 directly qualified drivers in the Amateur class:
1. Stephan Eschler (Velox/Max/Runner Time/??)
2. Pascal Kurzbuch (Mugen/Novarossi/MLC/Capricorn)
3. Donato Larocca (Velox/Novarossi/MLC/UFRA)
4. Daniel Born (Mugen/Max/??/??)
Sunday morning, what a surprise, it was sunny weather and until the semi finals the track was clean and dry. Now everybody, exept those who had too much fun at the Saturday night fever party, could have real fun racing on this nice track.
Markus Geisendorf, who was several times Swiss Champion a couple of years ago and one of the best driver Switzerland had at that time, was joining the field on Sunday and started in the quarter final in the amateur class. It was not a surprise when he took immediately the lead and qualified hiimself fort he semi final.
The other Semi finals of the Expert Group had not that much luck and they started again on wet conditions. Several drivers did not start and so the Shepherd Team driver, Simon Kurzbuch, could start his main in 5th position. Luca Martinelli with his Mugen and Max engine and also Andreas Aegerter (Mugen/Picco) had also the chance to get a place in the main.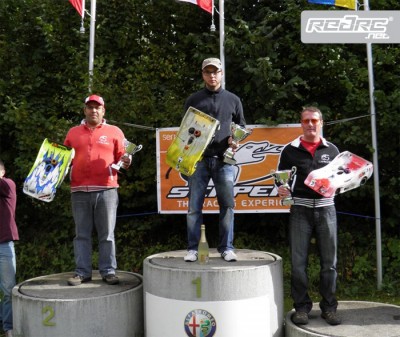 Amateur Main Final
The first main final was the Amateur class. It was raining again and nobody could knew what kind of engine and tyres they should use. Most of the drivers had put the Kiss Tyres on their cars and started the race. It was unclear who really could drive fast. After about 13 minutes the track became dry so that the fast drivers could take the lead. It was great to see how fast Pascal Kurzbuch (Mugen/Novarossi/MLC/Capricorn) was – he is the younger brother of Simon and will be one of the fastest Swiss driver in the near future. But finally it was again Markus Geisendorf who took the lead in front of Angelo Albani and Rolf Suter. Later on there was a little fight between 3rd and 4th position Pascal and Rolf Suter, but at the end the older driver could take the 3rd place.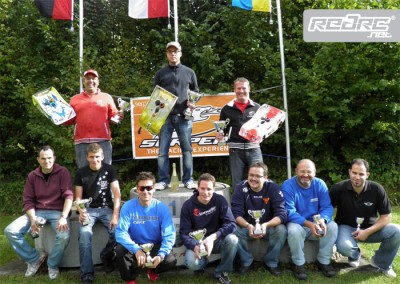 Final Ranking Amateur Class
1. Markus Geisendorf (AMCS/108/30:00.148)
2. Angelo Albani (MRCL/105/30:09.461)
3. Rolf Suter (MRCL/94/30:13.230)
4. Pascal Kurzbuch (MRCL/90/29:56.392)
5. Stephan Eschler
6. Roland Stalder
7. Daniel Born
8. Donato Larocca
9. Helli Spreng
10.Theo Giannakos
Expert Main Final
At 16:10 the Expert main final started with dry conditions. Thomas Henzi could start on pole but did not had a good start. After a couple of minutes it was Simon Kurzbuch again who was very fast from the beginning. Mattia Pesenti (current Swiss Champion) was not so lucky this day and stopped the race because the engine flamed out. Marco Müller was very fast on the track and had a chance to win this race. But after 35 minutes it was Simon who could take the lead and made the pace. So at the end both Shepherd drivers, Simon and Marco, took the opportunity to win this last Swiss Nats in Langenthal in first and second position. The final was not so spectacular, maybe because of the grande fiesta on Saturday evening where most of the drivers failed to get much sleep.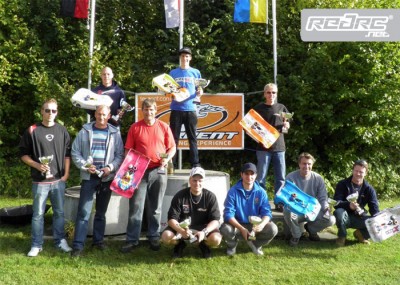 Final Ranking Expert
1. Kurzbuch Simon (MRCL/195/45:00.367)
2. Marco Müller (MRTM/195/45:14.072)
3. Thomas Henzi (MRCL/192/45:11.272)
4. Jürg Nydegger (MCRTB/188/45:09.321)
5. Luca Martinelli
6. Andrea Hächler
7. Andreas Aegerter
8. Mattia Pesenti
9. Andy Geisser
10.Michael Henzi
Again, it was an amazing racing weekend with a good catering service and a lot of fun during but also alongside the racing.
Source: RA Speed [raspeed.com] / Images: Picco Bello [team-shepherd.ch]
---