September 1, 2010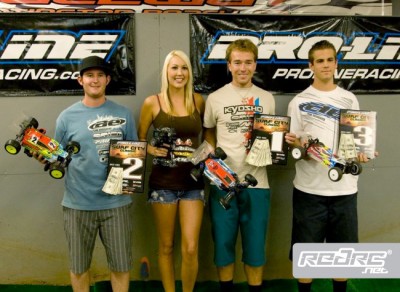 Team Orion are reporting on the 3rd Annual Surf City Classic that was held this past weekend at OC R/C Raceway in Huntington Beach, CA. This race continues to grow every year thanks in part to the track owner Robert Black bringing in the Nations top talent. This years event was only 1 week after the ROAR Electric Modified Off-Road Nationals. In attendance were all 4 2010 ROAR National Champions: Ryan Cavalieri, Jared Tebo, Mike Truhe, and Ryan Maifield. As well as the Modified Truck Nationals TQ Dustin Evans.
In the Modified Truck Class it was Team Losi's Dustin Evans who was TQ. Team Orion's Jared Tebo and Ryan Cavalieri qualified 2nd and 3rd. The A-Main was set for 1 10-minutes. At the start of the tone the top 3 qualifiers began to distance themselves from the field. At the halfway point of the main event the top 3 race order was the same. With 1-minute and 30 seconds to go Cavalieri made a pass for the lead and made it stick. Evans would finish in the 2nd spot with Tebo rounding out the podium in 3rd.
Modified Truck Overall Top 10
1. Ryan Cavalieri – Team Orion
2. Dustin Evans (TQ)
3. Jared Tebo – Team Orion
4. Mike Truhe
5. Steven Hartson
6. Frank Root
7. Aaron Lane
8. Brian McDuffie – Team Orion
9. Cody Turner
10. Tanner Denny
In the 2wd Modified Buggy Class it was Team Orion's Ryan Cavalieri who would set the overall TQ with Tebo qualifying a close 2nd. This would also be a 10-minute A-Main. Cavalieri and Tebo got off to a clean start making it through the first couple of laps. On lap #12 Tebo made a pass on Cavalieri and would hang on to take home the win. Cavalieri would finish 2nd and Maifield 3rd.
2wd Modified Buggy Overall Top 10
1. Jared Tebo – Team Orion
2. Ryan Cavalieri (TQ) – Team Orion
3. Ryan Maifield
4. Steven Hartson
5. Dustin Evans
6. Brent Thielke
7. Frank Root
8. Josh Numan
9. Mike Truhe
10. Cody Turner
The last class of the day would be 4wd Modified Buggy. Team Orion's Jared Tebo would TQ this class. The A-Main was set for 8-minutes. Tebo picked up where he left off in qualifying by leading every lap of the main event and took home the win by over 7-seconds. Cavalieri finished 2nd and Hartson 3rd. This completing the sweep for Team Orion in all 3 Modified Classes!
4wd Modified Buggy Overall Top 10
1. Jared Tebo (TQ) – Team Orion
2. Ryan Cavalieri – Team Orion
3. Steven Hartson
4. Ryan Maifield
5. Brent Thielke
6. Dustin Evans
7. Frank Root
8. Tanner Denny
9. Chris Jarosz
10. Mike Truhe
Source: Team Orion [teamorion.com]
---