November 24, 2010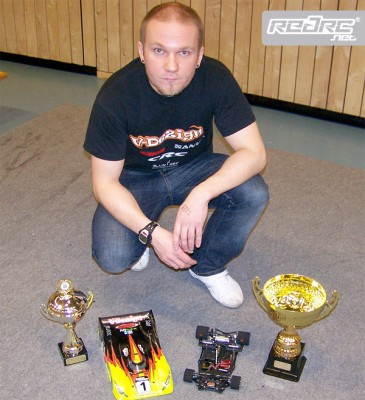 Having brought you a brief report from last weekend's annual Nordic Championships for modified 1/12th scale and touring car classes in Spydeberg, Norway last weekend, V-Dezign front man Vesa Yli sent us this more in depth report on the 1/12th scale race. About 30 drivers were on the starting list in 1/12th and about 40 in touring car class – all anxious to battle for the Nordics title. The entry list in 1/12th scale included most of the top drivers from Finland, Sweden and Norway were attending including multiple Euro's A finalists like Vesa Yli (FIN) and Mikael Fransson (SWE), A finalist from this year's Indoor TC Euros Adrian Berntsen and Swedish and Norwegian top drivers like Alexander Andersson and Helge Johannesen – just to name few!
The track was huge – 3-4m(!) wide – and not only the main straight – but also in the infield section which made it more suitable for touring cars and felt a bit boring for 1/12th scale. No dots were used, all barriers were made of 2×4″ wood with some plastic covers on turns. The venue was a big sport hall with plenty of room for spectators and drivers to pit at. Carpet was pretty thin which made the traction feel quite high even it wasn't. This seemed to cause lots of set-up issues for most of the drivers. Driving at the track was super easy as there was no technical sections at the track like used to with 1/12th class due to width of the track. Also dumping was really an issue at this track due to running flat out all 8min.
Friday – Practice rounds
On Friday there was 2 practice rounds for everybody. The first impression of the track was a more like a shock as there was really big bumps around the track so people were destroying their cars due to sudden take offs at such a high speed circuit. Luckily the organizers reacted fast and got the track fixed to suit better for on road racing after the practice was done and also during Saturday.
After first practice it was Vesa Yli with his Carpet Ripper 4.0 leading the pack. In the second round Vesa wasn't able to make the run at all as he hit a terrible bump in the middle of the straight and broke the car after 2 corners with 10 meters jump.! So back to the pits and getting stuff together for the qualifying on Saturday. To make all work like they should it took few hours until the early morning to put the car together again to be ready to dominate the race – as "pretty OK" is just not enough, you need to have a dominating performance!
Saturday – Qualifying
The Saturday started with 1 more timed practice. That round confirmed all the things with the car were put together like they should so I topped the round pretty easy ahead of Adrian Berntsen. The first qualifying round was won by Vesa with a huge margin followed by Adrian Berntsen, Helge Johannesen and Mikael Fransson – the top Swede and Norwegian drivers. In the second round it was Vesa again on the top with his Carpet Ripper 4.0 car by setting a new TQ again by leading from start to finish, followed by Adrian who improved as he got a good run and moved now to a more comfortable second place.
The third round of qualifying was no surprise – Vesa set the new track record and improved the TQ again by leading from start to finish line followed by Helge Johannesen and Adrian Berntsen with Mikael Fransson getting his car faster and following in 4th place.
In fourth round Vesa was having a slight understeering due to accidental glue drop in the front tire just a minute before the start so it was Helge who set the new TQ at faster track with Vesa following only 0.7sec behind. So it was going to be the last round that would decide who takes the most wanted TQ spot at this years Nordics.
In fifth and last qualifying round Vesa took the control right from the beginning and set the new track record lap after lap and took the pole position for Sunday finals ahead of Helge in 2nd place followed by the Norwegian TC ace Adrian Berntsen at his home track followed by multiple Euro´s A finalist and former Nordic champion Mikael Fransson with another Swede Maxx Rosen in 5th.
Sunday – Finals
The final day was started with the practice finals. In A-final it was the TQ man Vesa who took an easy win. Now it was time to get ready for the real finals. In the first final TQ man Vesa took the lead and kept it from the first corner to the flag easily without any real close racing even Helge was less than a second behind in the end after traffic with few back markers followed by Adrian in third.
In the second final the man from the pole position took the lead. After 4-5 minutes of racing due to back markers slowing down the leading car Helge started to catch up a bit. And suddenly there was a crash on the infield which wasn't announced so slower car hit Vesa out and he broke his rear tire completely which made the car spin in every corner for couple of laps until the foam bit was off. So Helge got the advantage on Vesa´s accident and took the lead for some laps but Vesa catch him up after few laps and took the lead as there was again a crash and both Vesa and Helge got hit by slower cars. So Helge got about 1 second lead over Vesa and it looked almost impossible to catch up within a minute at a track where drivers were running 75% of the time with full throttle so you can easily get away and disappear.
But everything was still open and there was just a bit over 1 minute to go when Vesa started to push as hard as he could. When there was only 1,5 laps to go Vesa caught Helge and kept his cool and took the lead by overtaking Helge in the end of the main straight from the outside line! The crowd showed some really nice applause! So after 8 minutes it was Vesa who crossed the line as a winner easily ahead of Helge and took his first Nordic Championship title in 1/12th scale followed closely by Helge and Alexander Andersson.
Vesa didn't run the last final as the title was already secured so Helge took an easy win followed by Mikael Fransson.
A final top 3
1. Vesa Yli V-Dezign Carpet Ripper 4.0/ Nosram /Nosram
2. Helge Johannesen CRC/Nosram/Nosram
3. Mikael Fransson AE/Advanced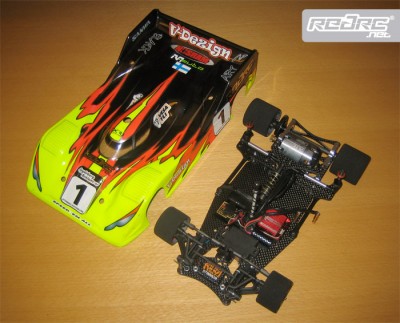 By winning the Nordics title, Team V-Dezign makes it up to 4th Championship titles this year in Europe in addition to double UK titles and the European Championship title won earlier this year!
Thanks to the organizing club that made the event possible and run it well on the schedule all weekend thru despite problems with the carpet in early rounds. And thanks to my sponsors -especially Nosram for the ultimate power and efficiency, Markus Mobers for the support with one and only choice for tires – MobGums, – and all the guys & ladies who helped through the weekend with all the accommodation stuff, traveling from Oslo to the track and back etc!
Even it is almost Xmas and the year 2010 is almost done with racing, Team V-Dezign continues working hard around the Europe. The next round of UK nationals is held in 3 weeks in Tamworth and the team will be presented there including Vesa Yli. Before the nationals it's still one more weekend of testing and another weekend at annual home track race called Blue Carpet Race in Oulu, Finland that will have most of the Finnish 1/12th drivers joining the race. So before turning the page to 2011, stay tuned for more race reports.
Source: V-Dezign [v-dezign.net]
---