December 6, 2010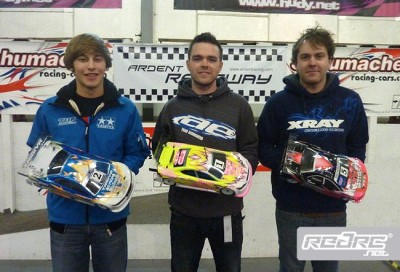 Round three of the Kick Energy Drink sponsored Ardent Winter series took place at the weekend at the popular indoor Ardent venue in Derbyshire. Leading the series going in to round three was a very on form Olly Jefferies, driving his Associated TC6. Olly continued his good form and took TQ ahead of the Tamiya of Elliott Harper and the Hot Bodies of Andy Moore. In the finals it was Olly that went on to take maximum points for round three with a third place and a win, Andy had a poor second final and this allowed Johnny Aird to come through from fifth on the grid to finish third behind Elliott Harper.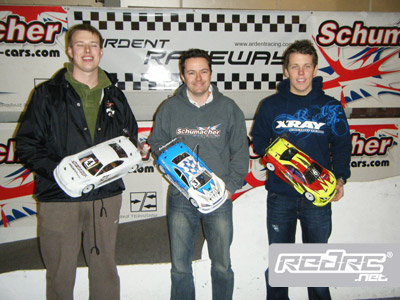 Pro Stock 10.5 was all about James Hart and Chris Ashton early on with James heading up Chris by 0.6 of a second until the last round of qualifying when Russ Williams separated the two Schumacher drivers. Once again the new car showed strongly with 5 making the A final. The finals were exciting races with the leads changing many times, James got unlucky in leg 2, so 2 second places were good enough for Chris to take the overall win again, with BRCA champ Jon Bowden in 2nd and Dominic Carter 3rd.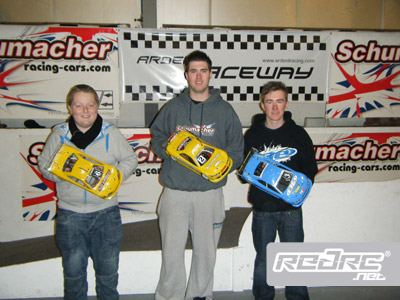 Liam Brookes started where he left off in the previous round in the 13.5T class, dialing in his car during the day to line up second on the grid. Good finals saw Liam take an easy win to make it 3 wins out of 3 at the series so far.
Source: BRCA [brca.org] / Schumacher [racing-cars.com]
---