December 15, 2010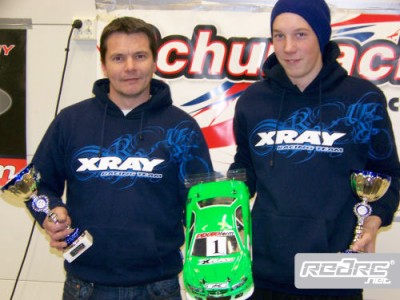 The 3rd round of the Norwegian National Winterseries in 2010 was held at BMRK's track in Moss, 40 min south of Oslo, a medium size track with high grip. In Touring Modified Petter Berntsen dominated this race through the qualification having just after switched cars earlier in the week. Tom Erik Haaversen ended up in 2nd followed by Oyvind Stusdal in 3rd. In 1/12 scale it was Helge Johannessen who was the man of the day, totally dominating this class and leaving the rest of the field in his dust. 2nd place went to Lars Haugen followed by Georg "gogg" Ellingsen. In SuperStock the fastest man was again Bjorn-Ivar Haug who tok TQ spot in front of Lars A Andersen and Trygve B Freng.
In the modified finals Petter Berntsen never looked back and lapped the field twice making a 24 lapper in front of Oyvind Stusdal who 'only' made 22 laps in a cloase fight with Tom Erik Haaversen. This fight was to last for the next 2 finals with Tom Erik Haaversen taking the runners up spot in modified.
1. Petter Berntsen – Xray/SpeedPassion
2. Tom Erik Haaversen – NA
3. Oyvind Stusdal – Xray
4. Mathias Ruud – Xray
5. Christian Hovden – Xray/SpeedPassion
The 1/12 scale finals again saw Helge Johannessen showed his dominance in this class by wining all finals 1-2 laps in front of the rest. Lars Haugen tok the runners up spot followed by Goggen Ellingsen in 3rd.
1. Helge Johannessen – CRC/Fantom
2. Lars Haugen – BMI/Advanced
3. Georg Ellingsen – Xray/LRP
4. Rolf Dahl – BMI
5. Ole Bro – NA
The SuperStock finals was a one man show by Bjorn-Ivar Haug in front of Lars A Andersen and Fredrik Flatland. In these finals we saw a lot of wild driving which was spectacular for the audience to watch, a lot of crashing and car wrecking, and in the end the final list looked like this:
1. Bjorn-Ivar Haug – Xray/Tekin
2. Lars A Andersen – Xray/Tekin
3. Fredrik Flatland – NA
4. Truls Ramstad – Xray/SpeedPassion
5. Trygve B Freng – Xray
Source: Modellbil [modellbil.net]
---