January 31, 2011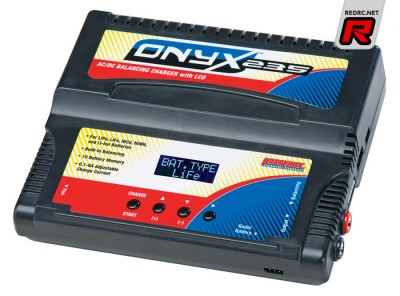 Amazingly versatile, pit-box portable and totally affordable the new Duratrax Onyx 235 is all the charger you'll need for power packs, radio packs and more. No matter which pack you run, it will assure that it has the best possible charge. Featuring balancing for up to 4 LiPo, Lilon or LiFe cells, the Onyx 235 can also peak charge up to 10 NiCds or NiMHs and includes five connectors/adapters.
Features:
– Charges at up to 4C for lithium packs and 8A (maximum).
– Includes output adapters for standard, Traxxas® and Deans® Ultra Plug® connectors, plus ElectriFly® and FlightPower®/Thunder Power balancing boards.
– Features 3 special-purpose jacks for added versatility:
1. Universal radio (for charging transmitter and receiver packs)
2. USB (for trackside cell phone and accessory charging)
3. Mini USB (for downloading firmware updates)
– Detachable AC and DC cords reduce tabletop clutter but leave power options open.
– Balances lithium cells with +/- 5mV accuracy – and ensures maximum voltage in each one.
– Features push buttons and audible cues for simple setup – and 10 battery memories for instant recall and customized results.
– Protects packs with an automatic safety timer – and itself with reverse polarity and current overload circuitry.
Specifications:
Battery Types:
– 1-10 NiCd or NiMH (1.2-12.OV)
– 1-4 LiPo, Lilon or LiFe (3.7-14.8V)
Fast Charge Currents:
– 0.1-8.0A linear, adjustable
– 4C limit for lithiums
Display: 2×8 reversed, backlit LCD
Dimensions: 6.3 x 5.3 x 1.7 in (160 x 134 x 43 mm)
Weight: 19.7 oz (559 g, w/DC cord attached)
Source: DuraTrax [duratrax.com]
---