January 1, 2011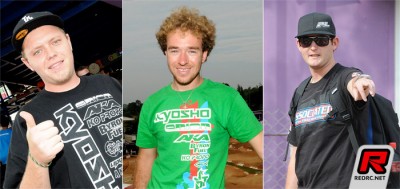 As of today, current IFMAR 1/8 Nitro Buggy World Champion Cody King, current ROAR 1/10 Modified Truck, 1/8 Buggy & Truggy National Champion Jared Tebo, along with current ROAR 1/10 4wd Modified Buggy National Champion Ryan Cavalieri will once again join forces under the Team Orion name. All three drivers have reached that World Championship milestone and are looking to capture more in the upcoming years.
Cody King has been on a hot streak as of late winning the highly contested JBRL Nitro Series in both Buggy and Truggy, followed by winning the Sidewinder Nitro Explosion, and then on to winning the 2010 IFMAR 1/8 World Championship in Pattaya, Thailand just a few short months ago. This gave Team Orion their first ever World Championship in the nitro class. Cody and his father "PK" have been a great asset to Team Orion's nitro success over the past 2 years and we look forward to many more great years with them.
Jared Tebo has racked up countless wins for Team Orion over the past 2 years. None more gratifying than being the first driver in ROAR history to sweep both the 1/8 Buggy and 1/8 Truggy National Championships in the same year. Tebo also won the ROAR 1/10 Modified Truck National Championship later this year. To cap off a great year Jared went on to TQ the 2010 IFMAR 1/8 World Championship and finish 3rd overall landing Team Orion on the podium! Tebo has been deeply involved in the prototype testing of the new Team Orion nitro engines that hit the shelves earlier this year as well as the new Team Orion 1/10 ESC that will be available early 2011.
Ryan Cavalieri has been a model of consistency for Team Orion over the past 5 years. Cavalieri and Team Orion have won a staggering 10 ROAR 1/10 Electric Off-Road National Championships together. Cavalieri has had allot of input into the development of Team Orion electric and nitro products and both parties couldn't be happier to extend their relationship farther into the future.
Team Orion USA Team Manager Joe Pillars will be at every major race in the US that the "Big 3" will be attending to continue providing excellent support for the drivers and customers. Since Pillars joined Team Orion in 2001, he has helped lead Team Orion to over 20 ROAR National Championships.
Source: Team Orion [teamorion.com]
---