March 14, 2011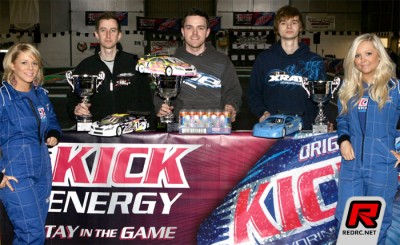 The 6th and final round of the hugely popular Schumacher supported Kick Energy Ardent Racing Winter Series took place over the weekend and once again the Schumacher team guys put on an excellent show. It could be said that this series has been the premier in the country attracting some of the best National drivers in both Modified and Stock classes. A big congratulations has to go to John Dawson and his crew for giving the drivers a great venue in which to race and show their talents. The final round saw Schumacher team leader Chris Grainger having his best result of the series so far with an excellent 3rd place in what is not a favourite surface of his! Chris is super happy that we will be soon venturing outdoors and is optimistic that the new Mi4CX can keep him on top of the podiums once the proper racing starts. It was Associated driver Olly Jefferies that took the Modified class victory ahead of this year's TITC winner Andy Moore in 2nd.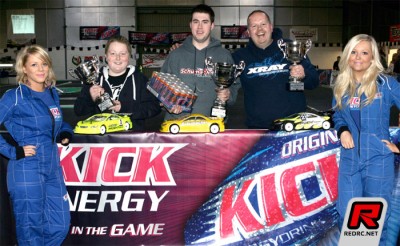 Overall in the stock classes the Mi4CX has really shone. Liam Brooks took fantastic wins in the first 4 races of the championship in the 13.5 class leaving the rest to fight it out for second and third place. Congratulations to Liam for an excellent winter campaign.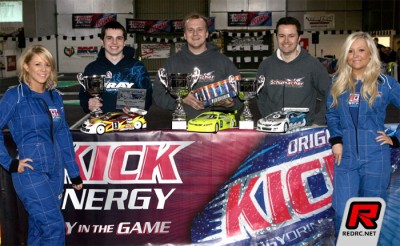 In the 10.5 class BRCA National runner up James Hart has been at the top of the pack closely followed by Schumacher's own 'old stager' Chris Ashton trying to keep the young pup's honest. With a couple of wins each the Mi4CX has won 4 out of the 6 races this winter, so a fine performance! Up and coming Ryan Edwards has been on a charge towards the latter stages and took the win this weekend, which was good enough to separate James and Chris on the overall podium.
So another big congratulations to James for winning the Championship in 10.5! So all in all a very successful winter carpet season for the team, winning two out of the three Championships up for grabs. All of the guys are now thinking of starting running ready for the tarmac season which will see another calendar filled summer.
Source: Schumacher [racing-cars.com] / Photos: Desawa Digital
---