March 22, 2011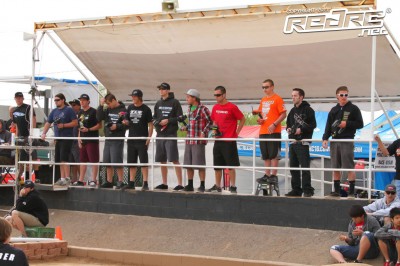 With qualifying for this year's Cactus Classic completed on Saturday, Sunday saw the all important mains day with race favorite Ryan Maifield looking to convert his 4 TQ spots into victory. At the end of Saturday's qualifying, all of the racers in the Pro-4 class were called to the announcer's booth for a meeting. I was slightly confused why, then I asked Ryan Maifield what was going on? He said a lot of the guys were worried about "nuking" their motors in the scheduled 10-minute main. Their compromise was to run double 5-minute mains. In A1, top qualifier, Ryan Maifield held his lead for the first three laps then let Mike Truhe and Hupo Honigl slip by.  The Durango duo of Jorn and Hupo did some swapping of positions with Maifield while Truhe ran away with the win.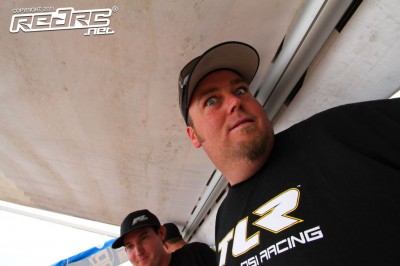 5 laps into A2, Maifield was leading and had consecutive rough laps and found himself in 5th position. Truhe took off in the lead with Neumann in tow. Jorn made a beautiful pass on Truhe in the infield to take the lead. Truhe knew he only needed a 2nd place finish to take the overall win so he followed Jorn's lead for the last few laps.  Truhe reigned victorious taking the overall win, followed by Jorn Neumann and Hupo Honigl.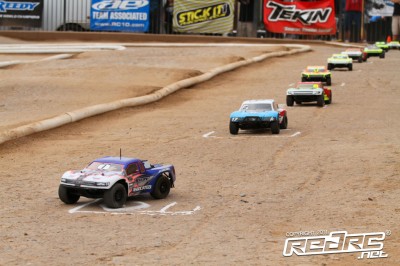 Pro-2 short course started off with a dominating run by Jared Tebo. Jared stepped out to an early lead and effortlessly took the win in A1. Team Losi's Mike Truhe and Frank Root were having good runs but late crashes let Ryan Maifield and the stalker, Ryan Cavalieri sneak by to finish 3rd and 2nd respectively. A2 started out rough for Maifield as he crashed on the first jump section allowing Tebo and Cavalieri to pass. Cavalieri wasted no time charging to the front, passing Tebo on lap 2.  Tebo had a few crashes and A2 turned into the "Ryan Show." Cavalieri and Maifield got the crowd fired up with some VERY close laps going bumper to mud-flaps. Maifield took the lead and finished with Cavalier only 1.6 seconds behind.  Maifield obviously learned from his mistake in the beginning of A2 and lead A3 from start to finish in the same dominating fashion that he showed in qualifying. Frank Root made a last lap pass on Cavalieri to take 3rd and Tebo hung in there for a 2nd place finish.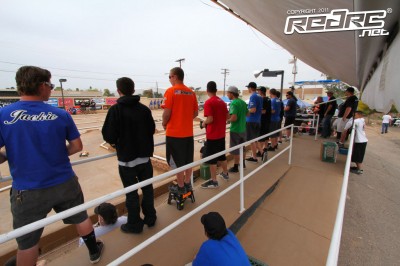 For the 2011 race season the 2wd truck modified class will be taking a big attendance hit mainly due to the popularity of short course trucks. Many of the top drivers have typically run 3-4 classes at these bigger electric races and 4-5 just does not seem feasible. Most have opted to run short course in place of 2wd mod truck. With more manufacturers coming out with 4wd SC truck, we will probably see this class thin even more.  14 of the 400+ entries were mod truck but there was no lack of talent or action. Jared Tebo, Ryan Cavalieri and Dustin Evans broke away from the pack in A1 never being much more than a second apart from each other.  Jared held the lead from start to finish even with the pressure of Cavalieri right behind him.  Dustin Evans dropped out early with a broken truck and Kyosho's Jason Jakubczyk found himself with a 3rd place finish.
A2 started off much like A1 with Tebo in the lead, Cavalieri in two but this time Losi's Phenom, Dakotah Phend was on the hunt. A crash by Tebo let Cavalieri and Phend by. Tebo quickly made up his ground and got passed Phend but couldn't get passed Cavalieri in time to wrap up the overall win.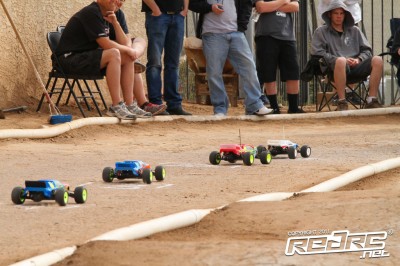 The final main was setup for a winner-takes-all battle. Tebo and Cavalieri each with a 1st and 2nd place finish got off to a good start but another uncharacteristic bobble by Tebo let Cavalieri pass to take the early lead. Dustin Evans was putting on the pressure trying to be the spoiler but broke on the final lap in 3rd place. Limping around the track, Jakubczyk passed Dustin on the straightaway to take 3rd place and 3rd overall. Cavalieri put a little distance between himself and Tebo, finished 1st in the A3 main and the overall win in modified truck.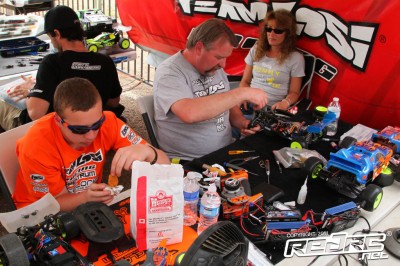 All week 14-year old Dakotah Phend looked really fast in every class. I did not imagine him to be in the lead after a few laps in A1, but sure enough he was. Dakotah got by Tebo and Maifield on lap 3 to take over the lead. Two laps later Maifield  set the crowd ablaze with an awesome inside pass over a triple to take the lead back. Tebo had some rough laps and dropped back to 7th place at one point as Cavalieri climbed to 2nd. Dustin Evans seemed to go unnoticed the whole race running very consistently behind the lead pack and finishing 2nd in the main.  Maifield finished 1st and Cavalieri 3rd.
Maifield took advantage of his TQ starting position and lead the race start to finish with lots of pressure from Tebo in the 2nd position. Cavalieri made a late charge to 2nd place only to be passed by Tebo on the last lap to finish 3rd.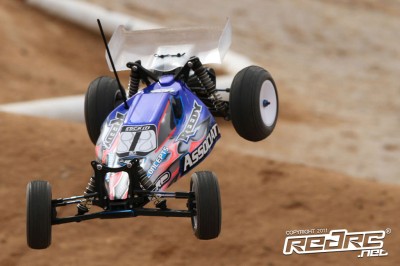 Maifield wrapped up the overall win with his A1 and A2 wins and sat out A3. Cavalieri was out for revenge.  Tebo started on the pole position and got out to a good lead. Cavalier made quick work of Evans and Phend, finding himself behind Mike Truhe. A few laps later Ryan made his move, passed Truhe and was on a mission to get Tebo back for A2. On the last lap, Cavalieri was chasing Tebo down the straight, onto the step up and set him up for the step off into the last corner before the start finish. It couldn't have been anymore climactic than that. Cavalieri takes an absolutely perfect line on the step off landing just inside of Tebo and winning by 48 hundredths of a second. It was so close that transponder position truly could have made a difference. Luckily, Jared Tebo won the points tie and finished 2nd overall in head of Cavalieri.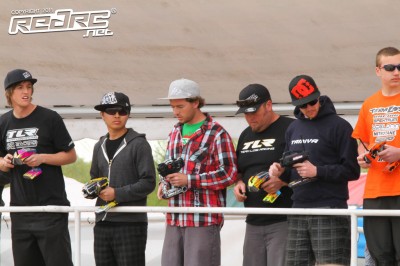 4wd modified buggy is my favorite class to watch. Maybe I am just another speed freak or it could be the admiration I have for drivers that pilot these sometimes fragile as glass cars around the track and make it look too easy. Either way, Naoto Matsukura is one of the fastest drivers I have ever seen go around an off-road track. Not to mention his Yokomo is always the fastest car down the straight and a site to see in itself. In A1 Naoto made a hard charge for the lead but fell just slightly short at 2nd place. Not to sound like a broken record, but it was all Ryan Maifield, yet again. Maifield made one early mistake but quickly jumped to the front and ran off with a 6 second lead in his victory over Tebo and Cavalieri.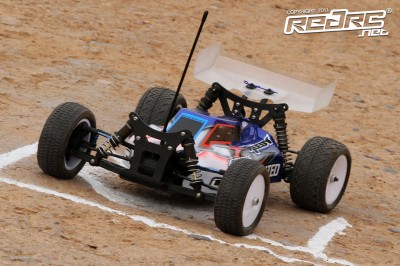 Maifield had a stellar A2 run that was virtually flawless and clinched his second overall win. Tamiya driver Lee Martin had a great run holding off Cavalieri to take 2nd place in the main.
A3 was again Maifield-less as he decided to be a spectator after having the win in the bag.  Tebo and Cavalieri were going at it early in the race when bad luck struck and Tebo was off the track with a broken car.  Naoto Matsukura put together a great run finishing 2nd and Dustin Evans 3rd.
Image Gallery
---