April 21, 2011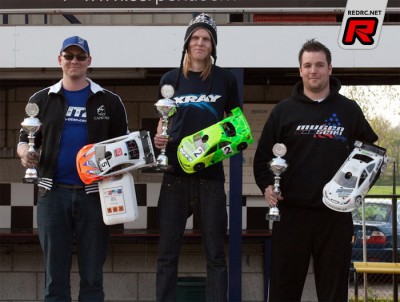 This season's Dutch 1/10th scale nationals kicked of at the noise-troubled MACH track, close to Amsterdam. Although the MACH is no longer able to host the EC-B because of noise restrictions, the national was able to be run due to the lower number of attendees and the Kyosho KWC class, which joins the nationals this year, making less noise. Saturday's training was influenced by sound measuring to get the national drivers below a certain noise level.
Despite all the troubles with sound and only having 2 qualifiers on Sunday, Daan Jacobs showed his knowledge of the local track by placing his Serpent on pole, closely followed by the current national champion Pedro Rombouts and Belgian racer Maxim Claes. Having registered on a free entry, Ricardo Hofmeijer showed his pace in the NOMAC class by putting himself on pole followed by new NOMAC driver Roy Bakker and section chairman Bart van de Water. The KWC drivers are new to this year's national races and consist of two classes, the Sport and Start class. In the Start class it was Mats van Kleef who made the best out of his qualification laps while in the Sport class we saw Wiebe Bartelink earning the number 1 on his body.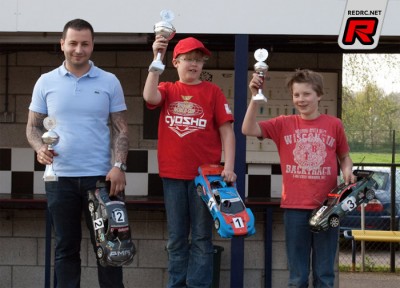 In the KWC GP Start class it was pole man Mats van Kleef taking the lead and never giving it up in the 15 minute final. Behind him, Danial Khalesi showed good pace followed by Lars Hovingh.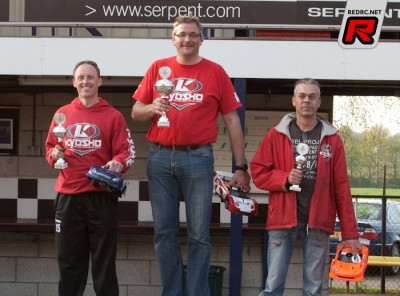 The GP Sport class saw a 30 minute final where Gaston van Kleef took the victory. Gaston climbed up from 7th spot where he was placed after being on pole for the half-final. In 2nd place it was Mark Been who qualified 4th and rounding out the top 3 was Jos Remmerden who came from 6th spot.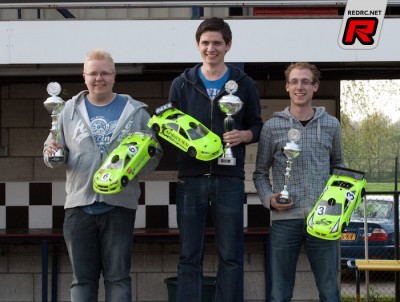 The NOMAC class only had 10 competitors making it a full final. Right from the start, Ricardo Hofmeijer showed how it should be done, by staying ahead of the pack. Ricardo did 105 laps in 30:14.208 which would have landed him a noticeable 4th spot in the NK class. Sidney Blokker was 4 laps down with a time of 30:11.697. Bart van de Water kept his 3rd spot, just making 100 laps in a time of 30:00.045.
In the 30 minute long NK final, Daan Jacobs and reining champion Pedro Rombouts battling it out for the first 15 minutes. A different fuel strategy would result in Daan just flaming out before his last pitstop. From then, it was an easy win for Pedro who completed the 30:00.198 lap run with 107 laps. Behind the two fighting frontrunners was Capricorn racer Arco de Jong who drove a steady but good race, finishing only 3 seconds behind race winner Rombouts. On 3rd spot it was Dennis van Lammeren driving his NOMAC class spec Novarossi powered Mugen.
View the full event results here.
Thanks to Ruben D'Arco for the report and photos.
---