May 24, 2011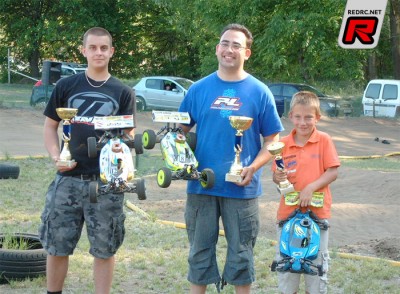 The 2nd round of the Hungarian Offroad Championships was held in Jaszbereny on last weekend. The 1st round could only run 2 qualification heats because of the terrible weather but this time it was superb on Sunday, over 30°C and with 50 entries. Track owner and co-organiser Hajos family did a great job to prepare for this event. The many purposely placed bumps, holes and ruts make this track quite unique and challenging to drive fast. The hot weather together with the difficult track and huge amount of dust put a great pressure on both man and machine. Meanwhile others could enjoy cold drinks and the great foods which were made trackside both days.
Buggy class
It was a nice and close racing with 4 different drivers winning the 6 heats. Beside the usual frontrunners also the son of former Hungarian champion and still very young Palla Balazs (Mugen / OS) shown his great talent winning the 4th heat on Saturday. In the end it was Toth Bence who TQ'ed in front of Cseko Gergely and Bruzsa Richard (all 3 Losi / RB). In the main final Toth Bence was forced to retire due to a broken steering servo. Bruzsa Richard got into the lead in the 3rd lap and slowly but steadily increased the gap up to 10-15sec on Cseko Gergely till the 23th minute mark when his engine stopped during the last refueling. Cseko Gergely used this opportunity to get into the lead and crossed the finish line 1st after the 30min final.
1. Cseko Gergely – Losi 8ight 2.0 EU / RB Concept B11 / Pro-Line
2. Bruzsa Richard – Losi 8ight 2.0 EU / RB Concept B11 / Pro-Line
3. Palla Balazs – Mugen MBX-5 / OS Speed / LRP
Truggy class
It was a 25min intense battle for the lead between Hajos Robert (Kyosho / RB) and Fekete Robert (Losi / RB) when unfortunately Hajos Robert's pressure tube broke and needed to replace in the pits. During their competition it was also a spectacular race between reigning Junior champion Arvai Krisztian (Losi / RB) and Truggy champion Markus Attila (Losi / RB) for the 3rd place. This ended after about 10 minutes when Markus Attila lost one of his shock joints. Arvai Krisztian jumped up to 2nd after Hajos Robert's problem. It was another great performance from a young racer among the "big boys".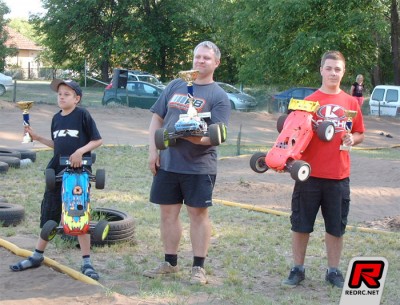 1. Fekete Robert – Losi 8ight-T 2.0 / RB Concept X10 / Pro-Line
2. Arvai Krisztian – Losi 8ight-T 2.0 / RB Concept B10 / Pro-Line
3. Hajos Robert – Kyosho Inferno ST-RR /RB Concept B11 / AKA
Electric class
This class is gaining more and more in the championship. The latest brushless systems provide insane amount of power to move these heavy chassis lightning fast. Truggies and Buggies are running together but later also has a separate evaluation in the championship.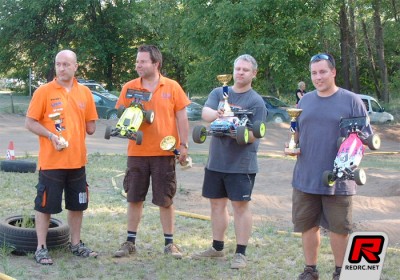 1. Fekete Robert – Losi 8ight-T E 2.0 / Leopard
2. Palla Csaba – Mugen MBX-6 Eco / Tekin
3. Drobek Zsolt – Mugen MBX-6 Eco / Tekin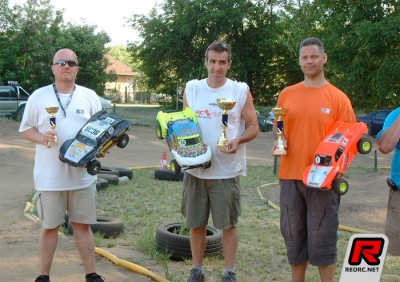 Short Course Truck class
1. Varga Daniel – Hong Nor SCRT10
2. Gyurics Tamas – Traxxas Slash
3. Szentesi Tamas – Traxxas Slash
Report and pictures by Cseko Gergely
---