June 3, 2011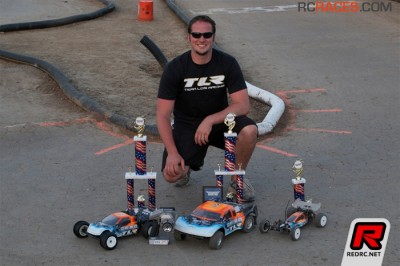 Over the past weekend Indy RC Raceway and Hobbies hosted the second annual "Memorial Day Shootout" and Ben Ellis made this report. The one day event brought over 120 entries from around the tri-state area to compete at the premier Midwest facility located on the south side of Indianapolis, IN. The race format was two rounds of rocket round qualification, with single 7 minute A-mains. Qualifying was as close as one could hope for with myself and Team Associated driver Adam Rayls and Jacob Robins trading the TQ back and fourth in 2wd Mod Buggy, Mod Truck, and 2WD Pro SC.
I was able to grab the overall TQ in 2wd Pro SC class with my Team Horizon/TLR XXX-SCT fitted with JConcepts Subcultures in Green compound in the rear, and JConcepts Double Dee's in Green compound up front, along with my JConcepts Raptor SVT body. I would end up starting 2nd in both 2wd Mod Buggy, and Mod Truck using JConcepts Flip Outs on the rear in both classes with Groovy fronts in Green compound for 2wd Buggy, and Green Carvers up front for Mod truck.
The Mod Truck A-main started off the A-mains. I stuck with my Flip Outs and Carvers on my Team Horizon/TLR XXX-T CR for the start for the 7 minute main. From the start of the tone Rayls and I battled back and fourth for the majority of the long main event. With under 2 minutes to go I was able to capitalize on a small mistake by Rayls to move past for the lead, and was able to hold on for the win. Rayls would hold on to second, Jacob Robins in third.
The 2wd Mod Buggy A-main was much of the same from the Mod truck main. Again I chose to stick with my JConcepts Flip Outs and Groovys on my Team Horizon/TLR 22 for the main event. Rayls and I would battle back and fourth with Jacob Robins lurking right behind us. I was able to get past Rayls to take the lead with less then a minute to go, just to make a mistake a few turns later giving the lead up to Robins. Robins then made a mistake feeling the pressure from Rayls on the second to last turn, giving Rayls the wins, Robins second, myself third.
Having great traction all through qualifying, I mounted up a fresh set of Subcultures and Double Dees for the 2wd Pro SC main. Having the benefit of starting on the pole for the 7 minute main, I was able to jump out to an early lead and use the clean air to put a sizable gap between myself and second, coasting to take the win. Local Indy racers Chad Gillum and Chuck Hayse would end up 2nd and 3rd respectively.
[youtube]http://www.youtube.com/watch?v=RIjZZZ6pOkw[/youtube]
Source: JConcepts [jconcepts.net]
---