June 23, 2011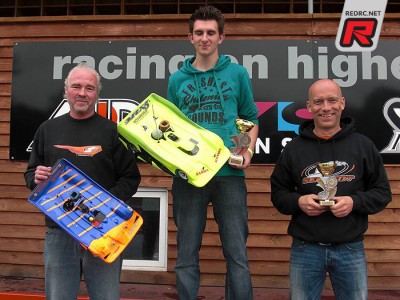 Jean-Pierre Roenicke is the new leader in class 1 of the Western German Championship 1/8 nitro on-road following his victory at round three. The race on the new track at Hamm was affected by rain on Saturday and Sunday. Beside Roenicke who switched from Serpent to Mugen only a few weeks ago it was only Serpent racer Ralf Vahrenkamp who started into the wet finale but was one lap down after 30 minutes. Fortunately the qualifying with four heats was run under dry conditions. Michel Salven caught pole position ahead of his Serpent fellows René Puepke and Karl-Heinz Meister with Mugen driver Uwe Baldes on fourth spot but these four racers refused to join the finale under wet conditions to leave Roenicke and Vahrenkamp for a "pas de deux". In the ranking youngster Roenicke is now leading with 351 points ahead of Uwe Baldes (347). René Puepke is on third (345) followed by Karl-Heinz Meister (341) and Rainer Rosskothen (Mugen/330). So far 17 racers have collected points in class 1.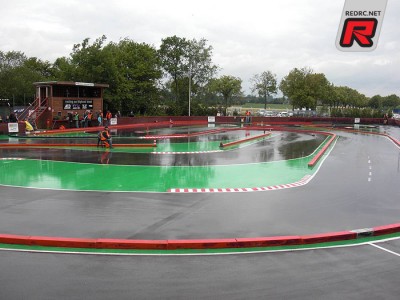 The 310 meter long track at Hamm with its new layout and a banking at the main corner which leads onto the long straight established itself as a really fast but unforgiving circuit. An unusual number of drivers became a victim of the massive barriers made by concrete – and it even happened even to the best.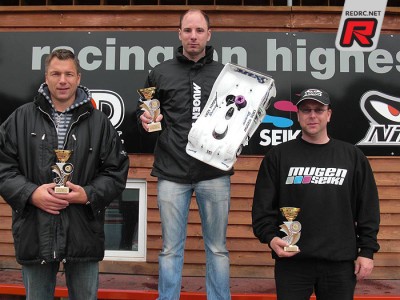 In class 2 Thilo-Alexander Toedtmann pushed his RB-powered Mugen to pole position with Sebastian Scheidweiler (Serpent) and local racer Thomas Krautwald (Mugen) on second and third spot. Following dry heats already the semi finales were run on a wet track. Finally Toedtmann, Scheidweiler, Krautwald as well as Bjoern Koenig, Jens Peters, Andreas Klaus, Markus Bastians, Christian Roenicke – all of them with Mugen – and the two Serpent mates Andreas Goebel and Thomas Reiche made it to the main race. With Koenig and Krautwald not entering the 30 minutes finale eight drivers were not afraid of the wet track. But one by one had to retire because of crashed or radio issues and when the chequered flag was out only Jens Peters made it to the finish line. What a success for the former 1/10 scale racer in his first ever 1/8 scale race! Andreas Klaus retired half a minute before the end to take second place. Markus Bastians, on last position after the heats, stopped before the 27 minutes mark but this was enough to join the podium on third. With 352 points Markus Bastians tops the class 2 ranking followed by Toedtmann (342), Thomas Reiche (340), Christian Roenicke (340) and Martin Figge (335). 34 competitors are listed in class 2.
The fourth and final round will be held on 9/10 July at the Rhein-Ahr-Motodrom at Bad Breisig where the German Nationals will be held on 8-11 September.
Source: Nitro-West [nitro-west.de]
---