July 31, 2011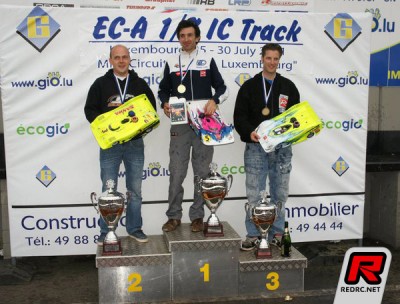 The EFRA 1/8th scale on road European Championships were held this week Mini Circuit Ville de Luxembourg, in Luxembourg. Europe's best drivers came together to battle it out for the title, which was won last year by newly crowned World Champion Robert Pietsch. Qualifying was topped by this year's World Championship runner up Dario Balestri driving for Capricorn ahead of Mugen star Pietsch in 2nd, while 9 time World Champion Lamberto Collari was 3rd and top Xray driver Erik Dankel was 4th. With no direct qualifiers everyone would have to make their way through the semi finals before that could fight for the win. Pietsch and Balestri would win their semis but a faster Semi A saw Balestri take pole ahead of Michele Romagnoli in 2nd and Ilia Van Gastel in 3rd, while Pietsch would only start from 4th on the grid for the 45 minute A-main just in front of Collari. The final saw close running at the front with Balestri, Ilia Van Gastel and Robin D'Hondt all sharing the lead. Problems for Balestri as well as Pietsch would knock them out of the race and what would be a race of attrition only 5 cars would finish the final with Lamberto Collari emerging as the winner for Kyosho just 6 seconds ahead of Serpent driver Van Gastel in 2nd, with Mugen team driver Rick Vrielijnck finishing in 3rd, 2 laps further back.
A-main final results
1. Collari Lamberto – 160L in 45:03.506
2. Van Gastel Ilia – 160L in 45:09.772
3. Vrielijnck Rick – 158L in 45:08.537
4. Romagnoli Michele – 157L in 45:04.670
5. Mack Oliver – 154L in 45:06.197
6. D'Hondt Robin – 121L in 34:32.967
7. Pietsch Robert – 115L in 33:22.570
8. Dankel Eric – 111L in 36:17.410
9. Balestri Dario – 110L in 32:21.665
10.Kurzbuch Simon – 96L in 31:36.651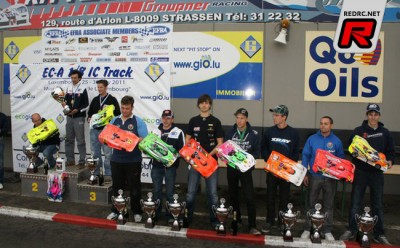 Full results can be found here.
Images: Robin D'Hondt
---