July 1, 2011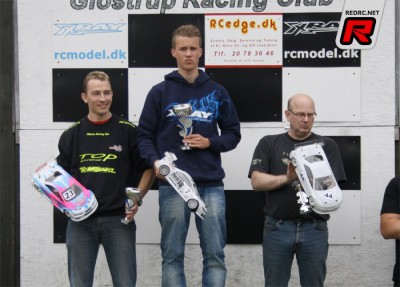 The 2nd round of the Danish 1/10th touring car championships was last weekend at the well known 'Rainbow' Track in Glostrup in Denmark, which hosted the Euros back in 2005. There was 17 SuperStock Drivers and 9 Modified drivers and Xray driver Nicolai Lindegaard sent us this report. On Saturday we did some very small setup changes having tested a lot in the weeks leading up to this race and so the car was fast, very smooth and easy to drive. The grip wasn't so high but we didn't change a lot of set-up because we expected more grip on the race day. The track is very nice with a very good flow so we were very excited to the Sunday's race.
Sunday morning we made 2 session training just to see if everything was ready for the day, and it was. Our qualifying and finals in Denmark are this year 7 minutes, so we have to take very good care of the tires for the whole race. In the first qualifying it was Nicolai and one off the local Team Drivers, Søren B. Holst, setting the pace whit Søren best in Q1. In Q2, Nicolai was very fast and set the best lap time off the day. In Q3 no one could make it faster so Nicolai made his first TQ.
The first A-Final was very fast and Søren got past Nicolai in the first corner due to a small mistake from Nicolai, and so Søren could take the first final. The second Final Søren had a small technical problem so Nicolai could take the victory. In the third final Nicolai was setting the pace from start to finish making a very small mistake letting Søren past. But he kept his head cool and with only half a round left, Søren opened the door just enough so Nicolai could pass him inside and win the final and take the overall.
The Final result:
1. Nicolai Lindegaard – Xray T3`11
2. Søren B. Holst – T.O.P
3. Troels Troelsen – Yokomo
4. Casper Morgan – Corally
5. Christian Lehm – Tamiya
6. Johnny Lyng – Tamiya
7. Nicolai Nielsen –  Xray T3`11
8. Søren B. Sørensen – Xray T2`09
Thanks to Kim Lindegaard for the report.
---