July 10, 2011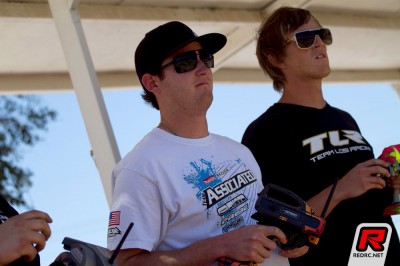 Round 3 & 4 of qualifying at the Hot Rod Hobbies Shootout are in the books.  Jared Tebo and Ryan Cavalieri stole the show with double TQ's on another toasty day in southern California. Dustin Evans was off to a great start leading Q3 of 4wd modified but a costly mistake early in the race put him down to the back of the pack.  Tebo and Cavalieri had a close battle for the lead throughout the race as Evans found a groove and worked his way back to the lead battle. One crash by Tebo allowed Ryan to walk away with a few second lead all the way to the end of the race, his 3rd consecutive TQ and clinching the overall TQ for 4wd modified. Ryan also crushed the small field of competition in mod truck, TQing his 3rd consecutive round again and taking the overall TQ as well.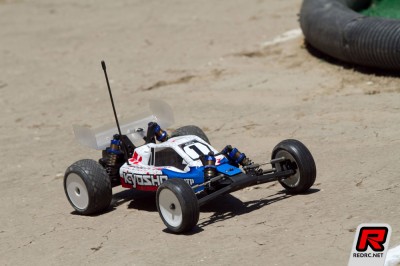 Q3 for mod 2wd belonged to Jared Tebo. He had an almost flawless run and easily walked away with his second TQ. Going into Q4 the overall TQ was still up in the air. It was between Jared and Mike Truhe. Mike already had one TQ in his pocket but needed to win the final qualifier with a 16 lap run. Most would think that is impossible after seeing Jareds Q3 run. Mike started out Q4 in the lead and his pace looked on par to be the impossible 16 lapper. Unfortunately, it didn't last long. One very minor bobble put him back on an extremely fast 15 lap run but it wouldn't be enough to take the overall TQ.  After a disastrous last lap for Mike, teammate Frank Root snuck in for the win and TQ for Q4. Tebo's 2 TQ's held up to start on the pole for Sunday's A-mains.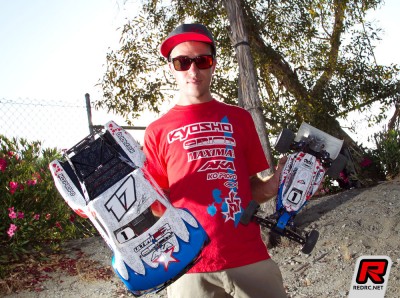 Pro-2 short course trucks were once again battling the wind all day over the large triple. Most drivers opted to double-single but Team Associated's Josh Numan decided to not fight the wind, but go with it and do back flips over the triple. He stuck it 6 times in a row! Quite impressive.  Tebo's Kyosho was dialed in Q3 and he easily took the TQ. Q4 was very rough for all the drivers as the pace was an entire lap slower. Travis Amezcua's prototype Anza Slash cut through the wind quite well. His conservative driving paid off and he worked his way to TQ for round 4. Team Losi's Frank Root had a good couple of days but couldn't match Jared Tebo's two TQ's which lead to his second overall TQ.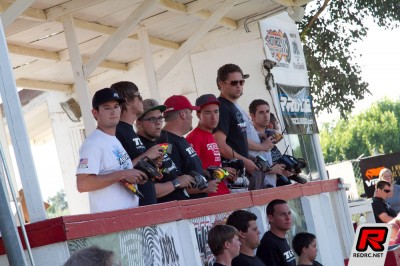 Sunday will be triple A-mains for all classes. The battles today were main-worthy but tomorrow is where the war will be won. 2wd and 4wd modified is anyone's to win.  Pro-2 will be a battle of attrition and pro-4 has a Durango/Losi battle shaping up nicely. The warm breeze will definitely wreak havoc on the short course trucks as it has the last few days. The track has been very well maintained each night so that shouldn't be a factor. The grueling sun has left it's red hue on many of the drivers but that wont stop anyone from another long day out in the elements.
Image Gallery
---