August 30, 2011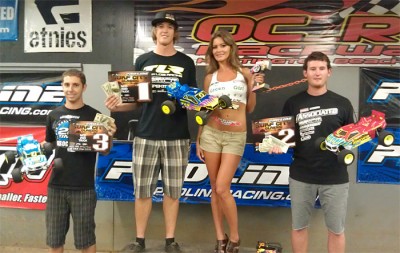 The 4th Annual Pro-Line Surf City Classic was held this past weekend at OC R/C Raceway in Huntington Beach, CA. This event has grown every year and sold out in only a few days after being open to the public. Big name drivers in attendance included current 2wd/4wd World Champion Ryan Cavalieri, Current 2wd ROAR National Champion Dustin Evans, Mike Truhe, Brian Kinwald, Ty Tessman, Steven Hartson and Josh Numan.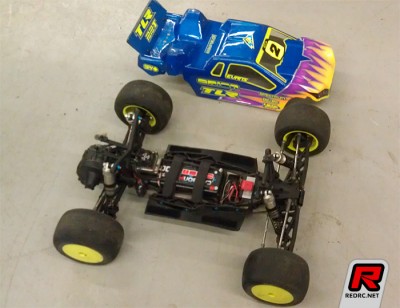 The Invitational Modified Truck Class saw Team Orion's Ryan Cavalieri take TQ honors with his Team Orion powered AE T4.1. For the 10-minute A-Main Event, both Cavaleri and Evans quickly pulled away from the field after the first couple of laps. Team Orion's Dustin Evans then made a move into the lead halfway through the race. When the checkered flag waved on the last lap, it was Evans taking the photo finish Win over Cavalieri by only .2 of a second. Team Orion Drivers Evans and Cavalieri would take the top 2 spots on the podium with Josh Numan finishing 3rd.
Invitational Modified Truck Overall
1. Dustin Evans – Team Orion/Team Orion/Team Orion
2. Ryan Cavalieri (TQ) – LRP/Team Orion/Team Orion
3. Josh Numan – LRP/LRP/Reedy
4. Mike Truhe – Team Orion/Team Orion/Team Orion
5. Steven Hartson – LRP/LRP/Reedy
6. Brent Thielke – LRP/Reedy/Reedy
7. Brian Kinwald – LRP/ICON/N/A
8. Frank Root – Team Orion/Team Orion/Team Orion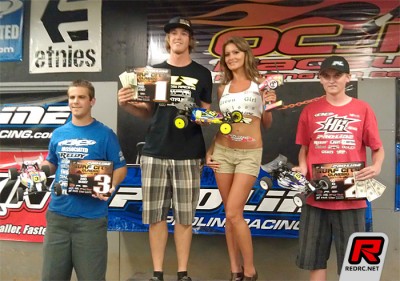 The Invitational 2wd Modified Buggy Class saw Dustin Evans take the TQ honors with his Team Orion powered TLR22. At the start of the 10-minute A-Main, Evans got off the line fast and began to put in consistant laps. At the halfway point of the race, Evans had a comfortable 7 second lead on the field. A lot like what Dustin did just a few short weeks ago at the ROAR Nats, he continued to put in great laps and went on to take the win uncontested.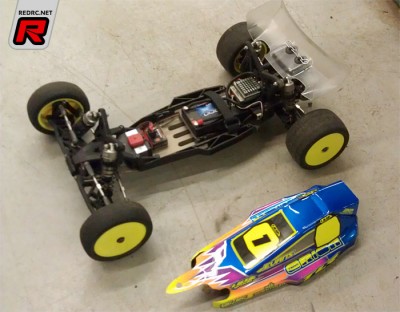 Invitational 2wd Modified Buggy Overall
1. Dustin Evans (TQ) – Team Orion/Team Orion/Team Orion
2. Ty Tessman – LRP/LRP/Reedy
3. Steven Hartson – LRP/LRP/Reedy
4. Mike Truhe – Team Orion/Team Orion/Team Orion
5. Josh Numan – LRP/LRP/Reedy
6. Matt Castellano – Team Orion/Team Orion/Team Orion
6. Cody Turner – LRP/N/A/N/A
7. Brian Kinwald – LRP/ICON/N/A
9. Brent Thielke – LRP/Reedy/Reedy
10. Ryan Cavalieri (TQ) – LRP/Team Orion/Team Orion
Source: Team Orion [teamorion.com]
---