August 15, 2011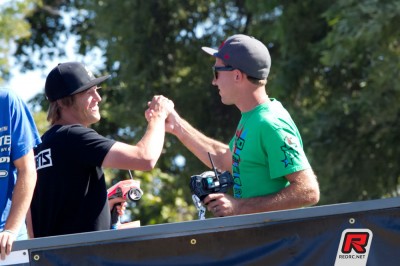 Finals day at the 2011 ROAR Nationals at Norcal Hobbies in California saw Top qualifier, Jared Tebo, made a very uncharacteristic mistake on the first lap of A1 in 4wd Modified Buggy. The Ryans made their way by with 4wd worlds TQ Ryan Maifield taking point. The teammates would tangle through the rhythm section, Cavalieri comes out ahead and they allow the Kyosho of Tebo to rejoin the battle for the lead. Maifield would retire early with electronics issues. Working his way up from the 6th position, Team Associated's Steven Hartson capitalized on a crash by Tebo to pull into the 2nd position right behind leader, Cavalieri. Cavalieri would hold on to win, Hartson 2nd and top qualifier, Tebo 3rd.
Jared would not make the same mistake twice on the start of A2. He got out to a comfortable lead with Ryan Cavalieri inching closer every lap. Tebo would give Cavalieri an opening on the last corner but Cavalieri would lose the drag race to the finish line by a mere .2 seconds. Cavalieri was off to a rough start in A3 as Tebo put some daylight between himself and the rest of the field. Maifield would lead the charge in 2nd as Cavalieri started making up ground from 6th place. Cavalieri lit fire and started running continuous, fastest laps of the week. He would pass Maifield and start closing in on Tebo. It was too little too late and the Kyosho would cross the finish line first and secure Tebo's national title in 4wd Mod.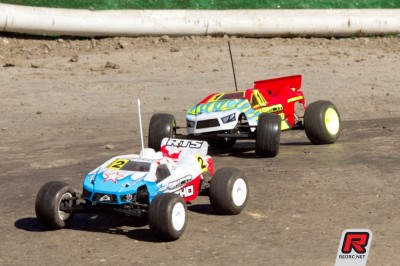 Dustin Evans made quick work of Jared Tebo and Ryan Cavalieri in A1 of Modified Truck with his brand new TLR 22T. Top qualifier, Ryan Cavalieri, lead with great poise for the first half of A2 but a couple of mistakes dropped him back two positions. The pair of 22T's of Dakotah Phend and Evans would move up and Tebo would assume a comfortable lead. Cavalieri would make it around Phend to get back to 2nd and a last lap mishap by Evans would drop him to 4th allowing Phend up to 3rd. The lead pack of A3 would stay within 1-second of each other for the first 5 minutes of the race, showing of the impressive control these pro's have over their cars. Patiently stalking Cavalieri, Tebo wedged his way into the lead while Evans followed. One crash by Cavalieri allowed Evans to move up as the clock was winding down. Tebo would take the win and his second national title for the day. Evans finished 2nd for the round, also securing a 2nd place overall and Cavalieri 3rd.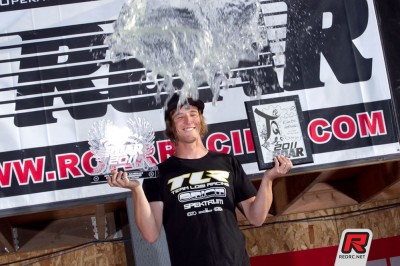 The TLR22 buggy of Dustin Evans was superb this week. From the start of practice he was extremely confident with his car and it showed on the track. Jared Tebo would put together a couple of stellar runs to top Evans but he was the only driver to do so. A1 started of with the TLR teammates of Evans and Matt Chambers out front. Jared Tebo would make an early pass on Chambers to move into striking distance of the leader, Evans. Jared's RB5 was clearly faster through portions of the track where he would patiently tap the rear end of Evans' 22. Evans held amazing composure to hold of the non-stop barrage of pressure from Tebo. Tebo crashed and fell back to a contest with Cavalieri for 2nd while Evans would hold steady for the win with Cavalieri finishing 2nd and Tebo 3rd. Dustin Evans had a train of cars in tow including Tebo, Cavalieri, Maifield and Chambers, all close enough to take advantage of a mistake. Evans drove a rock solid, mistake free A2 in the same fashion he won all of the previous weeks' races. The A2 victory would clinch the title and allow him to sit out the final main. Ryan Maifield finally found some magic with his B4.1 in A3, moving into the lead on the 4th lap and never looking back. Matt Chambers made a late move with his TLR22 passing Cavalieri for a 2nd place finish. Evans stood top of the podium with the overall win, and Ryan Cavalieri edged out teammate Ryan Maifield for 2nd in a tiebreaker.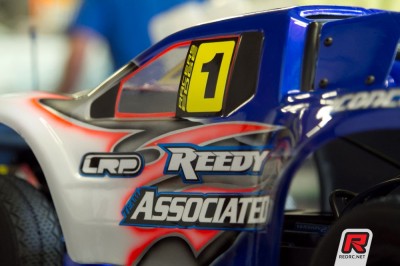 2wd Short Course Modified was dominated by the defending national champion, Ryan Maifield with his Team Associated Factory Team SC-10. Maifield walked away in A1 with little pressure from Jared Tebo while Brian Kinwald and Travis Amezcua battled for 3rd. Maifield pulled away in A2 but may have felt the pressure from the Kyosho of Tebo. Jared started running some insanely fast laps and one mistake from Maifield put Tebo right on his bumper. A quick inside move put Tebo out front. Maifield would answer 4 laps later with another great pass. His SC-10 then became as wide as the lane as he barely held Tebo off to take the win and successfully defend his national title. Brian Kinwald held of Tebo for the first half of the race in A3. Two 3rd place finishes were good enough to secure his spot on the podium alongside Tebo and Maifield.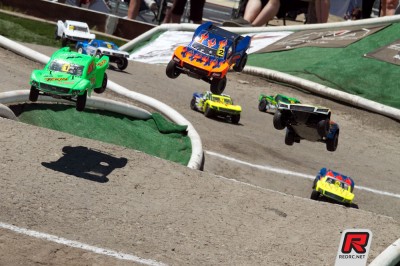 Dakotah Phend pulled out into the lead of A1 in 4wd Short Course with his Los TEN SCTE. The Durango of Travis Amezcua would be in position to pass as Dakotah traction rolled in an off-camber corner. TQ, Ryan Lutz and Phend entertained the crowd with some door-to-door action in which Lutz would prevail. Amezcua pulled away from the field, easily taking win, Lutz 2nd and on the last corner, the Lone SC-10 4×4 driven by Kody Numedahl made a great pass on Phend to take 3rd.  A2 was Phend's chance to redeem himself, and that he did. The youngster got out into the lead and would keep putting distance on the battle for second. Teammate, Mike Truhe would put together a good run and finish 2nd. A1 winner Amezcua, called for a 2-minute grace and looked like he was going to miss the start and watch his chances of winning fade away. At the last minute his truck was thrown onto the straight with doubt that he would finish. The tightest race of the all was A3. Lutz carried a good start with Phend and Truhe pacing behind him. Phend would make a pass after a bobble by Lutz, dropping him to 2nd. Consistent Laps would build a 3 second buffer for Phend as he won the race by a straight away margin and crowned national champion for the inaugural year of 4wd Short course. Ryan Lutz would stand 2nd on the podium with teammate, Travis Amezcua 3rd.
Image Gallery
---