August 11, 2011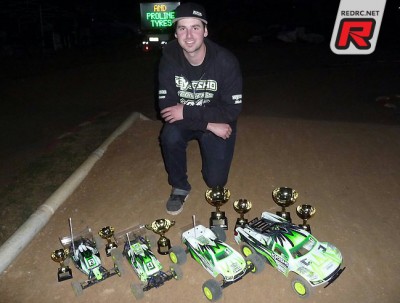 The Victorian State electric off-road titles were held in Mildura, Victoria Australia on the 6th and 7th of August. Drivers from all over Australia attended this great race meeting to claim the prestigious Victorian titles. Classes held were 2WD Stock, 2WD 540, 2WD Mod, 4wd Stock, 4WD 540, 4WD Mod, SCT, Truck Stock and Truck Modified. With over 190+ entries the racing was split up over twee days with 4WD and Truck on the Saturday and SCT and 2WD on the Sunday.

There was some great close racing throughout the weekend. In 2WD Modified it was Ray Munday TQ'ing with Ben Sterling qualifying 2nd and Matt Griffin 3rd. Finishing results were 1st Matt Griffin, Ray Munday and Andrew Abbott. 4WD Modified it was again Ray Munday again taking the TQ honours followed by Matt Griffin and Andrew Abbott. The finishing order would be Matt Griffin, Ray Munday and Andrew Abbott.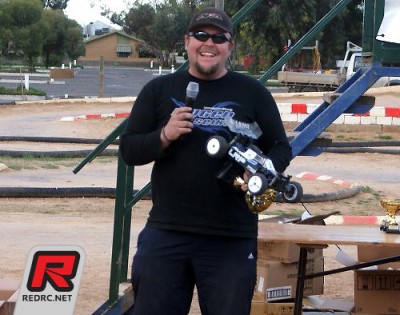 Truck Modified saw Ben Sterling take the TQ from Ray Munday followed by Scott Cameron. The finishing order was Ben Sterling, Ray Munday, Scott Cameron. SCT was Ben Sterling again taking the TQ spot followed by Scott Giles and Dean Michalik. Ben Sterling again took the No. 1 plate followed closely behind by Scott Giles and Dean Michalik.
We would like to thank the Mildura Radio Control Car Club for putting on one of the best EP off-road events held in Australia for a long time and also Pro-Line/HEI International for the control tires in all classes. For the finishing results for the Stock classes please click here.
Thanks to Ben Sterling for sending the report.
---