September 6, 2011
Last weekend saw the last round of the French championship held on the fast, thrilling and famous track of Clermont Ferrand. Weather was an important issue with just a few drops of rain on Saturday during qualifying and showers for the lower finals but for both main finals it was dry but the track had a different grip from qualifying. In both categories, there was a battle for the championship. In National it was between Damine Thirion and Jérémy Cassagne. And in the Elite class, four drivers could win the championship.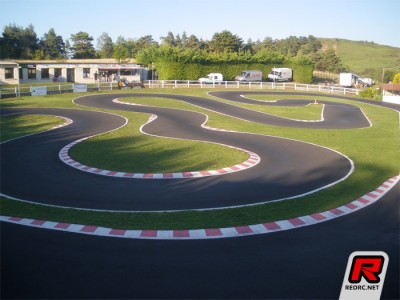 In National qualification there was no surprise with Damien Thirion in front of Jeremy Cassagne, while in Elite, Former World champion on this track, Adrien Bertin took an easy pole position. The fastest of the championship contenders was Jérome Papaconstantinos (Motonica P81 RS) in fourth place, Stéphane Bouche (Motonica P81 RS) ninth and Arnaud Mathieu twelfth (Motonica P81 RS).
In the national final, it was a thrilling race until the end. Because of the rain during the morning, track conditions were very difficult for all drivers. Jeremy Cassagne and Damien Thirion swapped places for the lead on the first half of the race, both drivers lapping the rest of the field. Damien Thirion made the first mistake, needing to pit before Jeremy Cassagne flamed out twice before finishing fourth. Damien Thirion would have another problem and he finished third only 9 seconds behind the winner however being in front of his rival, makes him the new French National Champion. In the last minute, it was Philippe Regolle in front of Gregory Tassencourt but the leader made a mistake while passing a slower car allowing Gregory Tassencourt to take the win and third place of the championship.
In Elite, the drama continued as Stephane Bouche didn't make it to the final while Jérome Papaconstantinos can't take the start of the race because of radio problems. Arnaud Mathieu crashed out at the start of the race but managed to come back to the race after repairs losing a few laps. He needed to finish fifth to be champion over Stephane Bouche. So when he comes back on the track he goes flat out. In the lead, it's Adrien Bertin. But after the halfway mark the collision with a slower car forces him to retire. The battle for the lead is between Gerald Collinet and another World championship finalist back in 1999, Christophe Aygon. And then the light rain began forcing all drivers to come in to put on wet tires. Christophe Aygon took the lead and went on to win in front of Gerald Collinet and Arnaud Mathieu kept on pushing hard and finishing fourth allowing to take the crown.
Source: Motonica [motonica.com]
---