October 13, 2011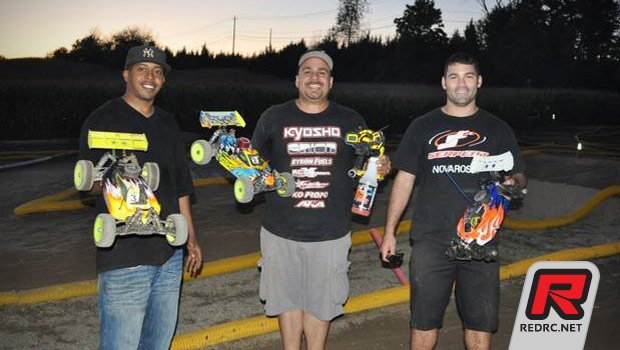 The fourth and final round of the North East Super Series took place at the Barnstormers RC Raceway in Chester, New York. In 1/8 Nitro Buggy Jamie Grayek was able to take TQ honours and secure overall Win in Points Series with Jimmyjames taking a 2nd and Jeff Legassy rounding out the top 3. With  the main race set to be 30 minutes it would prove to be a battle with multiple lead changes. Problems for Grayek early in the race would allow  Serpent's Stephen Plackis to lead out followed by Jay Bless of RC-NYC,  Kyosho's Jimmyjames and Serpent's Jay Livingstone. Around the 5 minutes mark a wheel to wheel battle would brew between Plackis and Bless with Jimmyjames and Livingstone in tow. Plackis and Bless would swap the lead multiple times with Jimmyjames still running in 3rd and Livingstone running 4Th. Around the 15 minute mark car contact between the leaders would slow them down allowing Jimmyjames to take the lead. He would lead out with  heavy pressure from Bless and Plackis but would not look back and was able to take the Win with Bless, Plackis and Livingstone in tow.
Results
Jimmyjames Rivera – Kyosho/Orion
Jay Bless – Losi/OS
Stephen Plackis – Serpent/Novarossi
Jayson Livingstone – Serpent/Novarossi
Thanks to James Rivera for sending the report.
---