November 15, 2011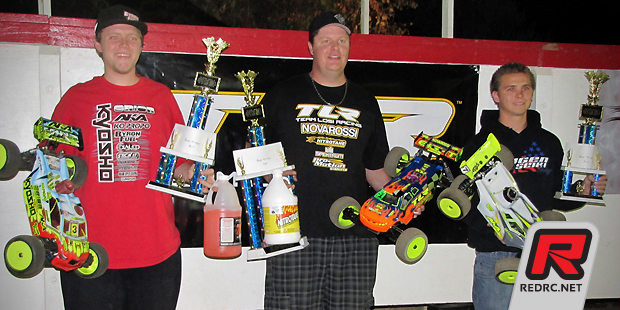 The final round of the 2011 JBRL Nitro Series was held last weekend at Hot Rod Hobbies. The event was scheduled to be run dry and blue groove, but Mother Nature had a different plan. A rain storm hit late Friday night, but the Hot Rod Hobbies crew did an amazing job to pump off the water and start racing at 10am. The JBRL series consists of eight races with five counting towards your point total over the course of eight months. In the Expert 1/8th Truck class Adam Drake had the championship wrapped up, but still competed in the final race to get more track time. Drake TQ'ed both rounds of qualifying and won the final by a large margin. Second went to Jesse Robinson and third place was Matt Schreffler. Adam Drake is the 2011 JBRL Nitro Series Champion, Cody King second, and Jesse Robinson finished third.

In the Expert 1/8th buggy class Adam Drake and Cody King were tied in points, but Drake had the most wins and better throw outs. Former World Champion Atsushi Hara also attended the finals and TQ'ed the buggy class followed by Drake, Amezcua, and King. With the grid set for the final and the championship on the line, current World Champion Cody King would need to win the race due to his throw outs being worse than Drake's. Hara lead the field of talented drivers, but Drake made a jump pass on the back triple to take the lead on lap one. Drake battle with Hara in the opening minutes, but was able to put a comfortable distance of about 8-10 seconds between himself and Hara.  Hara had a servo problem at about the half way point. Drake continued to pull away and checkout on second place Amezcua and third place King eventually putting a lap on the field. The finishing order remained the same with Drake taking the win followed by Amezcua and King. Adam Drake is the 2011 JBRL Nitro Series Champion, Cody King second, and Travis Amezcua finished third.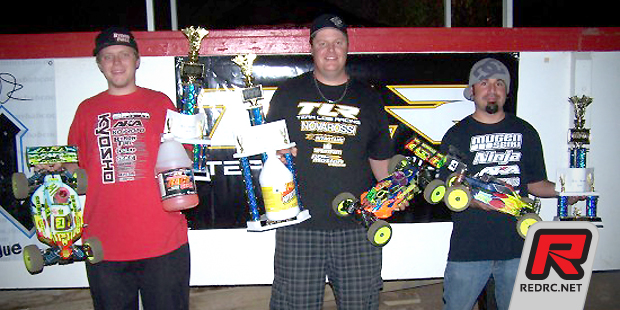 Many thanks to Adam Drake for sending the report.
---