November 3, 2011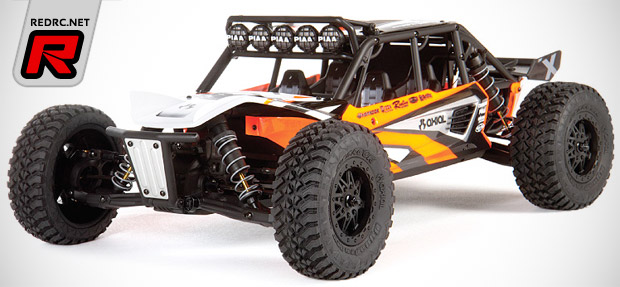 Axial have introduced the EXO a 1/10th scale electric 4wd terra buggy kit, which is ready to hit the desert or any other terrain you throw at it with all-out, high speed performance. The car features an adjustable motor mount, oil filled differentials, durable driveline components, quick release battery mount and lots of ultra realistic features such as the light bar, bumpers, tires etc.

Features:
Adjustable Motor Mount
Our patent pending adjustable motor mount included with the EXO™ features a two piece design that allows you to easily set your gear mesh with an adjustment screw providing the ability to achieve a perfect fit. A set screw is used to securely lock the two piece motor mount in position. The two piece mount is also keyed for proper alignment and strength.
Standard 32 Pitch Gears
The EXO™ utilizes standard 32 pitch pinion and spur gears to provide more tooth surface area for durability and efficiency to put its power to the ground!
Three Oil-Filled Differentials
Three, silicone oil-filled differentials transfer power to all four wheels and because they're oil-filled they can be fine tuned with optional oil. Each differential features four sintered gears housed in compact differential cases. This also allows the EXO™ to use compact and streamlined bulkheads for reduced weight, meaning less rotating mass for higher performance.
Durable Driveline Components
The stub axles are held in place by two bearings, an outer small bearing, and a large inner bearing. The larger inner bearing increases durability and stability. The steering pins are titanium nitride coated for less wear and durability. The axle is mated to a standard 12mm cast aluminum hex hub.
Quick Release Battery Mount
Our patent pending quick release battery mount is easily adjustable to fit any battery pack. The flexible rubber straps are connected to a hinge on one end and the other contains a pin that keys into a composite plastic latch that keeps your battery securely in place. There's also an integrated "lift assist" mechanism which puts the battery in the best position for removal. The lower plastic end plates are adjustable which allow you to fit any battery pack, and in most cases, two batteries will fit standing on edge. The motor position is centered lengthwise and battery is positioned towards the center for balance and stability.
Integrated Light Bar
Brighten up your night time driving session! The integrated light bar holds up to five LED lights and features clear plastic lenses and three styles of mesh covers – plain, Axial and officially licensed PIAA covers! (LED lights not included)
Protective Skid Plate Bumpers
The front and rear bumpers are hinged which allow them to flex upon impact, protecting the EXO™ from crash damage. Aluminum skid plate inserts add an extra level of protection and feature an embossed surface for added style.
Rear Tail Lights
The built-in rear diffuser/wing has embedded rear marker light buckets for up to four LED tail lights (LED lights not included).
2.2/3.0 Raceline Renegade Wheels
Raceline is by far the most popular wheel for extreme duty off-roading. Their ability to stand up to the abuse demanded by the full-size racer and their show quality finish is second to none. The officially licensed Raceline Renegade gives the EXO™ that authentic racing look as well as providing the strength to handle whatever you can dish out!
Hankook Dynapro MT Tires
The EXO™ features realistic, officially licensed Hankook Dynapro MT tires that perform as good as they look. The front tires are narrow (34mm) which help the EXO™ navigate the terrain while the rear tires are wide (41mm) putting the power to the ground with enough traction to keep the EXO™ firmly planted. Internal ribbing helps reinforce the sidewall to prevent it from folding over which keeps the tires working at peak performance.
Licensed Griffin Radiator
Realistic fan blade and grille cover details.
Adjustable Suspension
Threaded shock bodies, multiple shock positions and adjustments for toe, kickup (rear), camber, roll center and ackerman allow you to fine tune your suspension for high performance.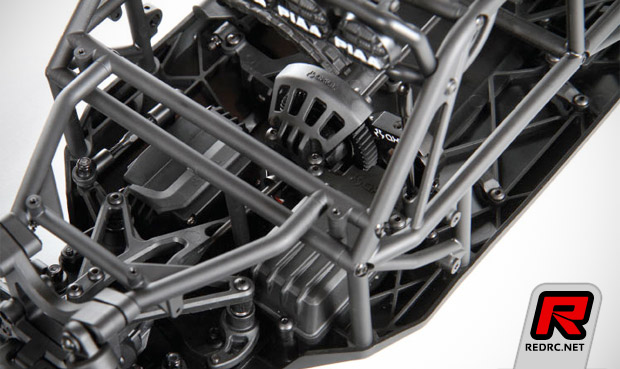 High Quality Components
We've chosen a variety of parts that keep the EXO™ durable and performing at a high level. These include steel turnbuckles, steel dogbones, steel outdrives, captured stainless steel hinge pins, full ball bearings, titanium nitride coated shock shafts and steering pins and a sintered steel pinion gear.
Tuned Shock Springs
Finding the right spring rate can be tough. Axial made it easy for you by including what we found to be the right balance of high speed and harsh terrain handling. The spring rate we've chosen keeps the EXO™ on course and ready for your next obstacle!
High Quality Steering System
The EXO utilizes steel steering posts, an aluminum steering rack, and an aluminum servo saver retaining system with captured bearings to keep you pointed in the right direction. The entire steering system also leans back 10 degrees to match the front kickup which eliminates all bumpsteer.
Wire Routing
The chassis has plastic routing clips throughout which helps keep your receiver and servo wires snug and away from moving parts which could shred the wires.
Waterproof Receiver Box
Our waterproof receiver box keeps your radio gear protected from the elements and with integrated wire management, it keeps the receiver leads organized and away from moving parts.
Patent Pending ESC Clip
We include three ESC mounting plates. Securely clip in your Castle SV2, or Novak Havoc SC ESC's with our patent pending ESC mounts. Running something different? Then use the included universal servo mount plate and standard servo tape.
Realistic Scale Details
The EXO™ features a variety of fully licensed, realistic features including a V8 Turnkey engine, a Fuel Safe fuel cell and an interior body set with four Corbeau race seats.
Robust Molded Roll Cage Design
The cage closely resembles what you'd find on 1:1 vehicles making this a strong and proven tough design that keeps the EXO™ well protected.
4mm Aluminum Chassis
The 4mm center chassis is made from 6061 aluminum for durability and features recessed pockets to lower the center of gravity.
Ground Clearance
The chassis tub is tapered to give you an extra 1/2″ of ground clearance.
Double Shear Mount
The captured double shear shock mount features an aluminum plate that keys into the molded cage for added strength.
Source: Axial [axialracing.com]
---