December 6, 2011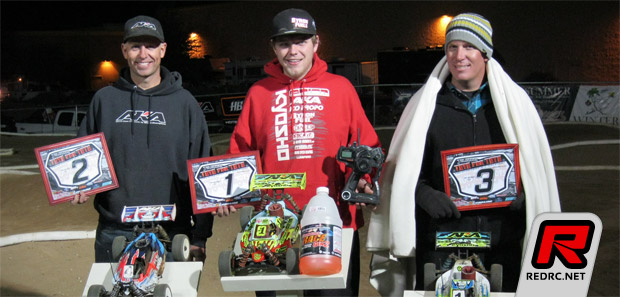 The 7th annual Toys for Tots was hosted once again at its original home track, Palm Desert RC Raceway in California. This has been a popular race for a good cause for many years and this year did not disappoint, with 133 entries and over $1200 being raised by the raffle alone. In the Pro class, the day was shaping up into a show down between 2006 World Champion Mark Pavidis, and the current World Champ, Cody King. Pavidis would capture the Truggy TQ, with King getting TQ in the buggy class.
In the Buggy main, it was a clean start, as the pack freight trained around the dark bumpy track. King was solid on the lead, with Mike Sharwin and Mark Pavidis in hot pursuit. Pavidis quickly got past Sharwin and set his sights on King. The leader's car looked exceptional on the very rough surface, and this allowed him to gain an initial 10 second advantage cruising out front, with Pavidis pressing to catch up. A few crashes by Pavidis and suddenly he was racing to stay on the lead lap as King was now chasing the 2006 World Champ. King's pace would prove to be too much as he got past Pavidis and put another half lap on the field before the race ended. King finished first, followed by Pavidis, and an impressive effort by veteran driver Jim Pierce finishing in the 3rd spot.
Pro Buggy
1. Cody King – Kyosho – Orion – AKA
2. Mark Pavidis – TLR – OS – AKA
3. Jim Pierce – Kyosho – Orion – AKA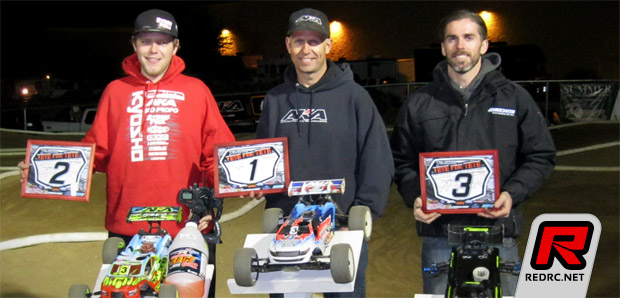 In the truggy main, there was an early pile up shuffling Pavidis and King to the rear. The world champion pair picked off drivers one by one until they were running first and second, with Pavidis leading the way. Pavidis was steady and strong on the front end, as King suffered a flame out half way through the race. This appeared to be a pressure line issue, as the engine was running lean and hot. King got restarted but 20 seconds behind now 2nd place driver Brent Fiege and put on a charge with 10 minutes to go, catching Fiege, and passed him in the last turn. Final order was Pavidis with a strong run and the win, followed by King and Fiege. King's engine died after entering pit lane and temped at a whopping 404 degrees.
Pro Truggy
1. Mark Pavidis – TLR – OS – AKA
2. Cody King – Kyosho – Orion – AKA
3. Brent Fiege – AE – Reedy – Proline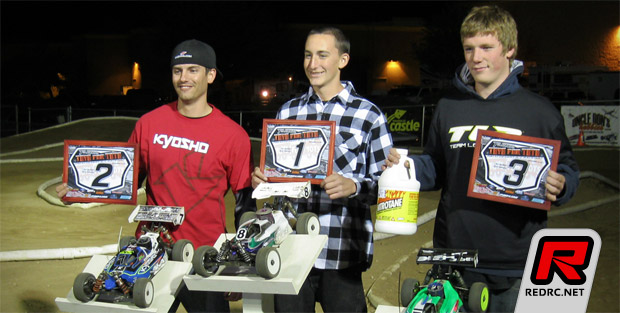 In the open buggy class, Sean Gaffney would lead the entire main, and looked to have things well in hand. With just a few minutes to go, the steady driving Kellen Freeman took advantage of what seemed like a late splash of fuel for Gaffney, as he surrendered the lead. Freeman would wheel his TLR buggy to the win, followed by the Kyosho of Gaffney, and Dylan Elliot in third driving a TLR.
Open Buggy
1. Kellen Freeman – TLR – Nova Rossi – AKA
2. Sean Gaffney – Kyosho – OS – AKA
3. Dylan Elliot – TLR – OS – AKA
Source: Kyosho [kyoshoamerica.com]
---