January 31, 2012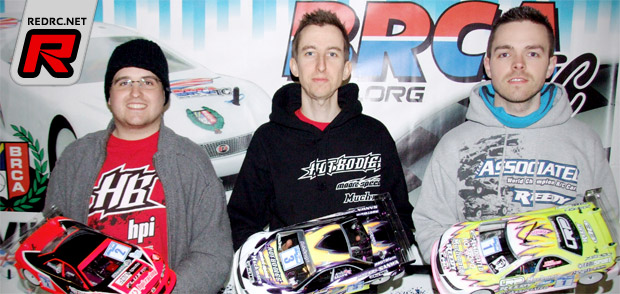 The BRCA held it Winter National at the popular Ardent indoor raceway near Derby at the weekend. This was the second year that Ardent had hosted the event, the format was three rounds of qualifying with the top 32 drivers going through to a Reedy style race of champions. The remaining drivers contested a more familiar UK national format with round by round qualifying and three leg final. In qualifying Olly Jefferies for Associated repeated his TQ performance from the 2012 Winter National, in 2012 Jefferies  finished second to Andy Moore and early on it looked like the battle for top honours would once again centre on these two drivers.
At the end of day one three drivers were on equal points at the top with maximum scores as Olly Jefferies and Hot Bodies driver Andy Moore were joined at the top by a revitalised Ben Cosgrove. Day two and the top three continued to take wins until Andy Moore broke the stalemate with a DNF, then Olly scored a second and then a third, now the momentum was with Ben Cosgrove going into the two final races, a winner takes all situation had developed with Elliott Harper also waiting in the wings should any of the top three make a further mistake. Andy Moore took victory, then Ben Cosgrove followed suit, Olly had to win his race from eighth on the grid and do it in a faster time than Andy Moore to win. Olly took the victory on the last corner but was nowhere near Moore's fastest race time set in one of Saturdays finals, so for the second year in succession Olly would lose out via the tie break rule. Andy Moore had driven well all weekend and took a well deserved victory ahead of Olly while Ben Cosgrove scored his best national result for a few years nudging out Elliott Harper to take Third for Hot Bodies.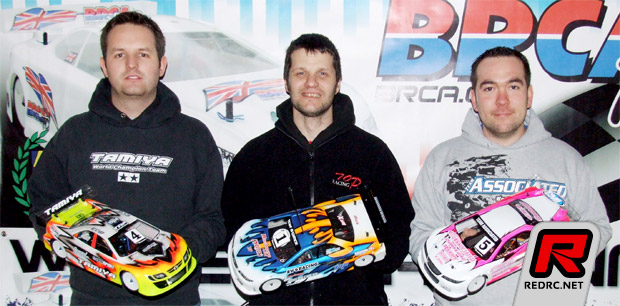 The clubman section of the meeting saw TOP factory driver Brian Eldridge take TQ and he would go on to take the first two legs of the clubman's A final. Probably a little disappointed at not making the top 32, Brian went some way towards making up for his disappointment with a dominant clubmans win. Making the trip over from Ireland was a number of top Irish contenders and Keith Dempsey was rewarded with second in the Clubman's section just ahead of national pro stock front runner Chris Slater. The event was well received by the full entry of drivers and the proven Reedy Race style
Thanks to Adrian Jefferies for the report.
---