January 24, 2012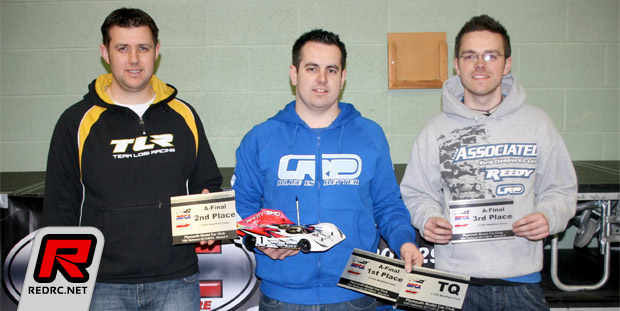 Round 4 of the BRCA 1/12th Scale Nationals took place in Plymouth last weekend. In the stock class on Saturday, Team Associated/Reedy/LRP factory driver Olly Jefferies continued his dominant qualifying form by taking his 5th consecutive TQ of the season. Reigning British Champion Andy Griffiths joined Olly on the front row of the A final grid with his Nosram powered V-Dezign car, while former World Champion David Spashett lined up 3rd. In the A final, Olly led Andy and the pair enjoyed a very close race for more than 7 ½ minutes of the race, until a small error just 3 laps from home allowed Andy through into the lead. Chris Kerswell came from 5th on the grid to finish 2nd for Serpent/LRP ahead of Spashett, while Olly could only manage 4th place following another error whilst trying to regain the lead from Andy on the penultimate lap.
In modified on Sunday, Mark Stiles made some alterations to the setup of his LRP powered Serpent car for the morning practice session after struggling to find pace on the previous day. These improved his car somewhat and he spent the first 2 qualifying runs further refining the handling. His efforts were rewarded in the last 2 qualifiers where he set the fastest time, thus giving him the overall TQ ahead of Olly Jefferies and Andy Griffiths. This was the first time this season that a driver other than Olly had TQ'd a BRCA 1/12 national.
Mark led away the A final field closely followed by Olly, and these two immediately pulled a large gap to the chasing pack. In the early stages Olly was applying pressure at the front, but a mistake coming onto the straight sent his car flying off the track 1 minute into the race. This allowed Mark to relax and settle into a comfortable rhythm and he wasn't challenged for the remaining 7 minutes. At the end he had a comfortable lead of more than 6 seconds and lapped every other car in the final except former World Champion David Spashett who finished in 2nd place. Olly recovered from his early crash to finish 3rd.
With 2 events remaining, Olly looks to be favourite for both titles and a good result at the next round may be good enough to secure him overall honours.
[youtube]http://www.youtube.com/watch?v=auys6vU-eTA[/youtube]
[youtube]http://www.youtube.com/watch?v=dvMk8AqM7bA[/youtube]
Thanks to Mark Stiles for the report.
---