January 3, 2012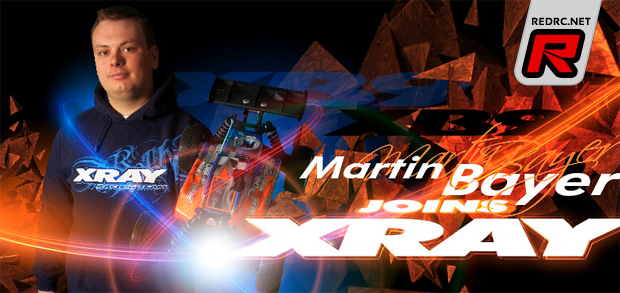 Xray is proud to announce that Europe's top off-road driver Martin Bayer is joining the Xray factory racing team. Martin Bayer is the European large-scale Champion as well as multiple European Championship finalist with podium finishes in the off-road category. Martin is a 5-time Czech National Champion and regular finalist at international races in the last few years. Martin will race the all-new XB9 starting in January 2012 and will participate at all major international races including the Neo12, all the main GP races, national race series, and of course the European and World Championship races.
Juraj Hudy, Xray Chief Designer, says:
Martin is one of the most dedicated and professional off-road racers in Europe and I am happy that Martin will race and work for Xray. Martin lives only 1 hour away from the Xray factory, which will allow us to work very effectively and flexibly, especially considering that as a family they have their own racing track which will boost the pace of development and testing. After we signed Ales Bayer to join the team last year, it took a bit more time to show his brother Martin that we at Xray are not only the world's only real RC car manufacturer with all in-house production capabilities, but that we are also completely dedicated to perfection in products and service. With the all-new XB9 platform and the all-new professional racing team being set up all around the world, we are very pleased that Martin has joined our racing and development team.

Martin Bayer says:
To change teams was a very difficult decision for me, and I want to thank my previous sponsors with whom I have worked in the last few years. Over the years I have watched the work of Xray and I have been in the Xray factory several times to see and experience all the R&D and manufacturing potential they have in their facility. It is simply amazing and unbelievable what Juraj has achieved in such a short time and how with his passion he brought the Xray brand amongst the best and most admired companies in the RC world. I was stunned with Xray's new product and team projects; the R&D opportunity that Juraj introduced me to has convinced me to join Xray's racing and R&D team. It is an all-new challenge for me and I will give it the best I can. I am excited as I have ever been.
Source: Xray [teamxray.com]
---