February 6, 2012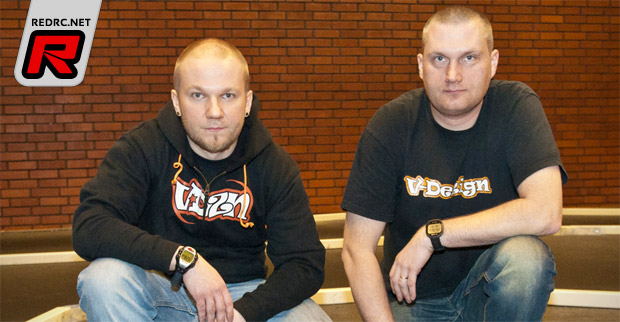 The first round of Finnish 12th scale nationals were held in the city of Seinajoki, close to Vaasa city where 1/10 electric offroad were held last summer. This year's famous FinTrack Tour has been divided in to both 12th and touring car series separately, which means both classes get more suitable tracks to race on. The 12th scale national championship series consists of 4 races held from January to April. Also new for this year is 10.5t blinky class which is now run as its own and not combined with modified like last year.
The practice saw regular faces on top with V-Dezign drivers Vesa Yli and Panu Vehniainen driving the new Carpet Ripper V as well as current Euro champ Simo Ahoniemi and many others, very high level action was to be seen. After 4 rounds of qualifying it was Team V-Dezign's Vesa Yli who took the TQ by dominating every round of the qualifying session. In stock class team mate Janne Valtanen took the TQ ahead of another Carpet Ripper V driver Janne Aspinen, who just did his first ever 12th scale race! Janne is well known and fast guy from electric offroad.
In modified A mains Vesa kept his cool and took the overall win by leading from start to finish in the first two final legs to ensure the victory in this years first nationals. Simo Ahoniemi took 2nd and Teemu Saarinen finished 3rd. Another top V-Dezign driver Panu Vehniainen took 5th with some unlucky finals.
In stock A mains Janne Valtanen also took the win in the first two final legs and ensured the double TQ&Win for V-Dezign.
Source: V-Dezign [v-dezign.net]
---