March 13, 2012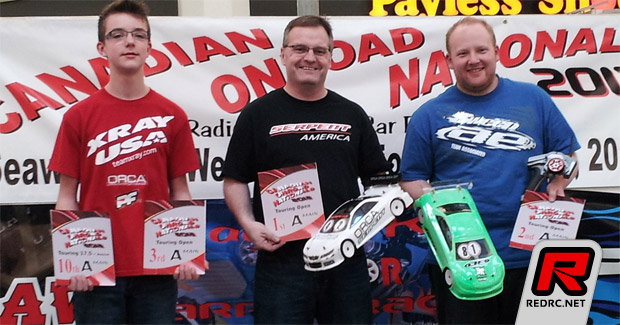 Last weekend was the annual Canadian On-Road Championships which is uniquely held in a shopping mall with the intent of further exposing the hobby to hopefully attract more drivers. Martin Crisp filed this report. "This event was put on by a longtime friend of mine, Mark Frechette, and has been growing year over year.  The space limitations of the mall meant the track would be small and technical, but I have always like technical tracks. Even though this is a Canadian Championship race we had some fast USA drivers like Mike Haynes, Dave Johnson and others join us to make this a bit of a Can-Am challenge. The small track and driver line-up made for some great qualifying and racing.
In the most popular class, 17.5 boosted, the TQ was held by myself for the first two rounds, with factory Xray driver, and fellow ORCA teammate, Andrew Hardman taking in the 3rd round with a 30 5.04 pace.  The TQ could have gone to Mike Haynes, Andrew Hardman or myself as it came down to the last round, where I managed to put in a 31 5.10  lap run after changing motors, gearing and ORCA esc settings.  This meant the top three spots were Martin, Andrew and Mike going into the main.
In the Main, Andrew's Xray broke on the first lap after a couple of taps so he had a frustrating end to his weekend.  This left factory driver, Mike Haynes in his Associated and me in my ORCA powered Serpent to battle it out for the win.  We both had similar pace, so it was going to be who could drive clean and manage traffic.  In the end the TQ position helped me secure the win for the 17.5 boosted championships.
In the Modified class, it was a similar qualifying result.  Mike Haynes and I took turns with TQ, but my serpent reclaimed the TQ in the end with Andrew Hardman qualifying second and Haynes third.  The main was a very close battle with all three of us in contention to win, and running close to each other for the entire 6 minutes.  With the luxury of the TQ, I was able to pace myself enough to keep a small gap and just try not to make many mistakes, although I did make a couple.  About mid-way through the race, Andrew Hardman made a minor mistake allowing Mike Haynes to get by.  The two of them battling took the pressure off me, perhaps too much as I started to drive too conservatively causing me to make some minor mistakes.  But in the end I managed to keep the lead and take the win."
Source: Serpent [serpent.com]
---