March 28, 2012
Last weekend saw the first of five rounds of the Swedish Cup in 1/10 electric buggy 2WD and 4WD class. The first race was hosted by Tomelilla MK at their indoor track, this time using the same layout as the last year's EOS Pilot race. For this series, the AKA 1/10 Rebar tires together with the red AKA insert was used as a regulation tire for the first time in Sweden. On Saturday the race started with 2WD and practice and four rounds of qualifying. Local TLR driver Henrik Nilsson opened strong and won the two first qualification rounds and David Ronnefalk the other two. On equal qualifying points Henrik took the TQ on better time and started from pole position in the A-main.
In A1 David made a good run and managed to pass Henrik and take the win 2 seconds before Henrik. On third place ended David Hassel. A2 had a crazy start with almost all cars involved in a big crash in the second corner. Johan Balsberg was a driver that managed to avoid the crash and got a big lead. Henrik got some problem after the crash and retired after 2 laps. David was almost last but started the big chase through the field and drove the fastest laps that day, but it was not enough and Johan took the win before David and Mikael Johansson.
At the third A-main Henrik got a good start and had a clean drive all the final with David chasing and trying to pass, but on the second last lap David hit the pipes and flip over and Hassel could pass and take the second spot after Henrik and before Ronnefalk. Once again Ronnefalk and Henrik had the same points and Henrik had the better time and secured this first round in 2WD.
1. Henrik Nilsson – TLR/SpeedPassion/Prospec/ThunderPower
2. David Ronnefalk – Kyosho/Team Orion/Team Orion/Team Orion
3. David Hassel – TLR/LRP/ORCA/Team Orion
Day 2 it was the 4WD class and in the first qualification round It was a chase between Kennie Ekenstierna, David Ronnefalk, David Hassel and Mikael Johansson, and Kennie was the one who drove the cleanest round followed by Ronnefalk and Hassel. In the second round Hassel made a really clean and fast run and won the round 4-5 seconds before Ronnefalk and Niclas Månsson.
Ronnefalk who really wanted the 4WD win made some adjustments on the car and made an amazing drive in the 3rd round and beat Hassels Q2 with result with 6 seconds, only 0,4 from a 15 lap round and a medium time that was lower than the other drivers best time…just to show that he can. Kennie and Marcus Sandberg ended 2nd and 3rd in that round.
Then it was time for round 4 with possibility for three drivers to take TQ, but once again Ronnefalk got away and won this last round and secured TQ in front of Niclas Månsson and Hassel.
In A1 Ronnefalk got away in the start but made two small mistakes and let Hassel pass and win this first final with David second and Niclas Månsson as third. Ronnefalk was irritated by his driving in A1 and really refocused on the A2, and once again he made a clean and fast run and took the win 10 seconds before Niclas Månsson and Kennie Ekenstierna. In A3 it was time for a new clean run by Ronnefalk and he secured the win 8 seconds before Kennie and Hassel.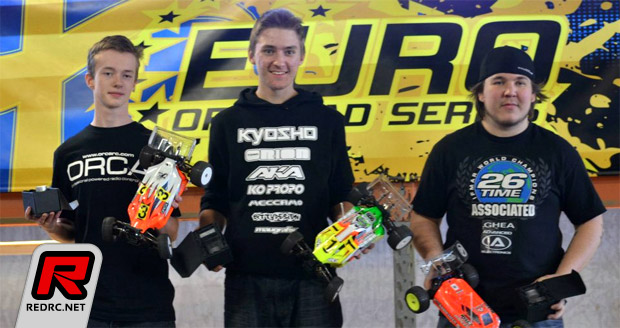 1. David Ronnefalk – Kyosho/Team Orion/Team Orion/Team Orion
2. David Hassel – Kyosho/LRP/ORCA/Team Orion
3. Niclas Månsson – Associated/Advanced/Advanced/Nosram
Thanks to Pierre Ronnefalk for the report.
---