March 13, 2012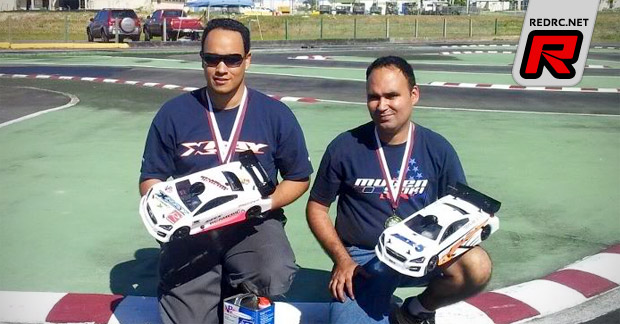 The third round of NOS was held last Sunday at Barceloneta RC Track. In the Sedan Class was Guillermo Camacho set the TQ in the seven minutes qualifiers with a 19L 7:04.457. However at the tart of the A-main Camacho asked for a 5 minutes grace to fix mechanical problems and lost his starting position.  The battle started early in the race when Xray Driver Juan Rodríguez took the lead but Andy Báez driving his MTX-5 took the lead until 3 minutes to go when he stripped both gears and this allowed Juan, who was on the same lap, to retake the lead until the finish of the race. Guillermo Camacho was second and Fernando Méndez third.
1. Juan C Rodríguez – 78L 30:06.025 (Xray NT1)
2. Guillermo Camacho – 78L 30:17.071 (Xray NT1)
3. Fernando Méndez – 77L 30:19.083 (Mugen MTX5)
4. Norberto Rodríguez – 76L 30:08.359 (Xray NT1)
5. Antonio Mellado – 75L 30:16.235 (Xray NT1)
6. Emilio García – 75L 30:20.053 (Xray NT1)
7. Andy Báez – 71L 27:27.922 (Mugen MTX5)
8. Juan C Rivera – 63L 30:37.050 (Xray NT1)
9. Jorge Esteves – 55L 30:15.900 (Serpent 733)
10.Jesmar Ramos – 23L 12:42.005 (Xray NT1)
For the GT class the organizer set up the qualifiers for 10 minutes in preparation for the Ipanema GT World Championship.  In the GT class it was Samuel Zayas with his DM1 who TQ'd with a 23L 10:10.470.  During the 30 minutes final Zayas was in front until he hit mechanical problems that took him out of race for a while. It was Mr. Juan Chalas who took advantage, taking the lead until the end of the race followed by Eric Ortiz driving a DM1 and Ricky Fuentes driving a Kyosho GT-2.
1. Juan Chalas – 65L 30:20.536 (Ofna DM1)
2. Erick Ortiz – 58L 30:01.866 (Ofna DM1)
3. Ricky Fuentes – 58L 30:20.273 (Kyosho GT2)
4. Samuel Zayas – 54L 30:25.760 (Ofna DM1)
5. Zobeida Ocasio – 27L 14:12.416 (Kyosho GT2)
6. Ivan Vázquez – DNS (Kyosho GT2)
Thanks to Zobeida Ocasio for the report.
---