March 20, 2012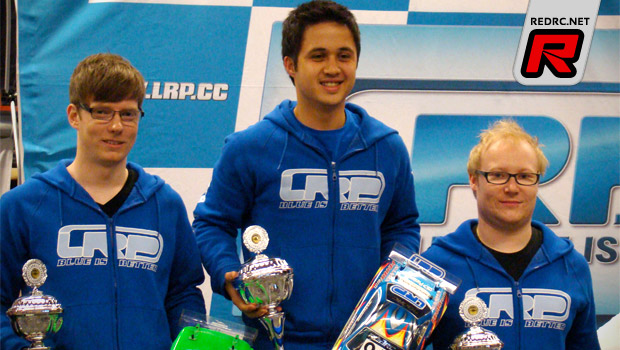 Last weekend saw the German Indoor touring car Nationals held in Goettingen and the event attracted around 100 drivers across three classes. Saturday saw two rounds of free practice followed by 4 rounds of qualification. Sunday morning was again one round of free practice and the final qualifier. It was Yokomo/LRP driver Ronald Völker who would secure the TQ spot, followed closely by Awesomatix/LRP driver Freddy Südhoff and Yokomo/SP driver Yannic Prümper. Ronald Völker would go on to take the win in A-Main leg one and two and successfully defend his German National title. The last final went to Freddy Südhoff, which secured him the Vice German Champion title. For overall third place there was a close battle between new Yokomo driver Dominik Fleischmann and Yannic Prümper. Both had great battles but in the Final leg Yannic made a mistake and broke his car, giving Dominik the third place overall.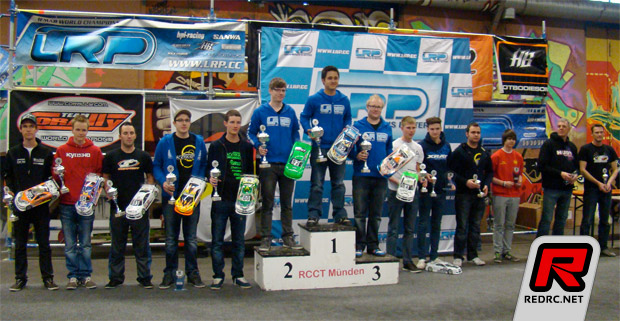 Top 10 Modified:
1. Ronald Völker – Yokomo/LRP
2. Freddy Südhoff – Awesomatix/LRP
3. Dominik Fleischmann – Yokomo/LRP
4. Yannic Prümper – Yokomo/SP
5. Patrick Pasch – Yokomo/LRP
6. Marc Fischer – Serpent/SP
7. Christopher Krapp – Kyosho/Orion
8. Eric Dankel – Yokomo/SP
9. Maro Kaufmann – Xray/Orca
10. Tim Wahl – Xray/LRP
Thanks to Freddy Südhoff for the report.
---