March 27, 2012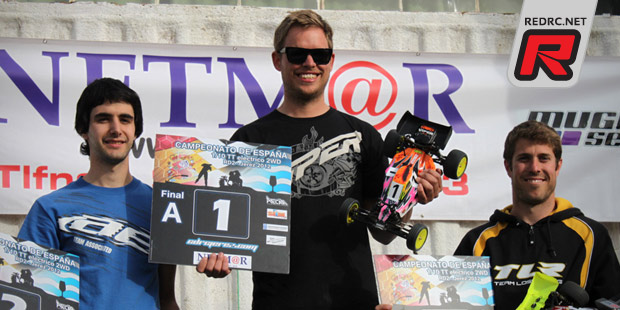 The second round of the Spanish 2WD electric buggy Championship took place on the weekend of the 24th and 25th of March in the Andalusian town of Jerez, in southern Spain. It is the first time that the club CDRC Jerez hosts a national championship and they put on a great effort to have everything prepared for the race.

Yet again the series saw a great attendance with almost 70 entries. All usual suspects plus a couple of pretty fast locals and 1/8th drivers were in contention for the win. From the first practice round on Saturday two drivers clearly stood out from the rest Carlos Pineda and Zacarias Villalba. Both were lapping almost five tenths faster than the rest. It seemed like the race was going to be a two-man game.
On Sunday all five rounds of qualifying and triple finals were held. Pineda took the first two rounds of qualifying while Villalba took the last two. It came down to the fastest time to determine the TQ spot, in hands of Villalba, who made an completely error-free last round to take TQ honors. The crowd witnessed an epic battle between both drivers in all three A-finals. Ansmann driver Zacarias Villalba won A1 and Pineda A2. It all came down to the last final. Both checked out and ran away from the rest. A small bobble form Fasol-Associated driver Carlos Pineda in the last part of the race allowed Villalba some breathing room to take the win by only two seconds over Pineda. The remaining two rounds of the four round series will be held in Bilbao (June) and Barcelona (September).
Result
1. Zacarias Villalba – Ansmann X2/Viper R/C
2. Carlos Pineda – Associated B4.1/Hobbywing
3. Ramon Nuño – TLR 22/Viper R/C
Thanks to Zacarias Villalba for sending the report.
---